Visnadi, "Racing Tracks (Indianapolis drive mix)"
(
YSI link
)
Since we did that old new rave thing yesterday, I wanted to throw up a little old rave, i.e. the actual music played at actual raves. This is a pretty crazy track here and it'll become apparent after a
-It feels like forever since
Crimp Yr Hair

bols
dropped
The Re-Up
on Philly and so it deserves the top spot this Saturday night. One of the best parties in the city is joined by D.C.'s Stereo Faith of Sorted for a massive night of debauchery and dance. You know the details - Upstairs at Sal's, $1 beers 'til 11, the best music in the world. It's a monthly, don't miss it tonight or you have to wait til June!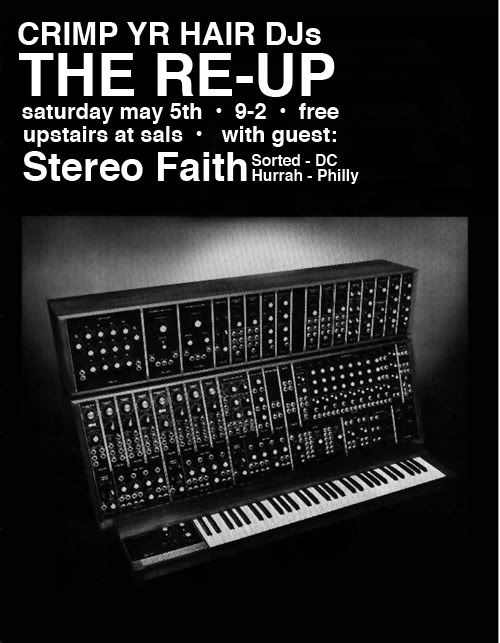 -G-d, I love when my favorites come together to up the party ante. Project Matt brings in Nick Catchdubs as guest DJ for his weekly Saturday jawn at Home Sweet Home (131 Chrystie St.) You already know about Matt, you know about Nick, you know about Saturdazed, no excuses. I'll be in the house, so you know it's gonna be real.
-Skinny Friedman and Tres Gueros are clearly the perfect way to celebrate your Cinco de Mayo. Tres Gueros? That's Spanish, people. I think. Seriously, one of my fav dudes from the Philadelphyinz is in NYC and you should see what it's all about. Rififi (332 E. 11th St.)
-It's a rave, Dave. Well, a 21st Century club rave at least called Masters of the Universe. Stop your hipster complaining (talking to myself on that one) and appreciate the fact that you can hear Moby spin an old school set. Yes, Moby. The dude with that shitty cafe in the LES. Just as cool, there's a live set by Institubes' Curses and Knifehandchop and DJ sets by the Cut and Trouble + Bass crews. Get your glow sticks and get to Studio B (259 Banker St.)
-Oooh shit, stop by Love Bridgade (103 Havermeyer St.) in Williamsburg for its grand reopening today, from 4-midnight. Tiny Pants is spinning, free beer and deals on all of their dope clothing.
-Minneapolis, where you at? If you are in that city, there's no other place to be than
Too Much Love
with that kid
Soviet Panda
. Every Saturday at First Ave (701 1st Ave. North), you get the chance to hear the best in electro, dance, indie, new wave and all sorts of good stuff, as good as anything going on anywhere in the country. Juan MacLean rolled through recently, tonight you get guest sets by Karl D and Mike the 2600 King. This party is so good, it'll make you forget the North Stars left town.
-Over on the West Coast, Rockognized presents Number Three at 1640 N. Spring St. Why do I love this party so much, despite never having heard about it before? Because they've made a great flier that references Three Amigos the movie and puts all of the relevant info right there, especially the fact that there are 6 bathrooms at the place. You also get lots of DJs like the Royal Rumble cats, Damager, Dan Sena and others.
-Finally, San Fran might have the rave spirit most in effect tonight with Gentleman's Techno. I'm mean, shit goes down at a spot called The Cave (3201 3rd St.)! Lots of good music, live set by two Tigerbass artists, C.L.A.W.S. to celebrate his new 12" release and the first show for Miffy. Lots of DJs, including Jefrodisiac, OonceOonce from Tigerbeat6, the Jealous Lovers DJ team and others, all for "five fucking bucks." Sounds good.