Okay, okay, I jock this party too much. Blah blah blah, I'm lame, I'm gay, bleep blorp. Listen, this is one of my favorite parties,
High Voltage
, by one of my favorite dudes, Dimitry, and tonight he's joined by two more favorites in the form of
Men, Women and Children's Nick Hook
and the
Philadelphyinz's Skinny Friedman
. That's called the perfect storm and you don't need Marky fucking Mark to tell you that this is the place to be. Oh wait, did I mention the special surprise guest, playing a live set? Oh, I didn't, my mistake. Yeah, on top of all of this goodness,
Yo Majesty
will play a set to show that they aren't just some blog hype mirage. You know the deal,
Sutra
(1st Ave btwn 1st and 2nd Sts), free, open vodka bar from 11-it's gone, hosted by Jason Hates You, lots of cute girls, some cute dudes, a great Wednesday downtown.
-You can also make a stop downtown at this month's edition of Hopchank, the last Wednesday monthly at Happy Ending (302 Broome St.). Residents DJ Reverend McFly and Morsy are joined by Sweatshop Labor's DJ Johnsville [sic on the flier] for a night of limitless possibilites - dance, baile, indie, you name it, they'll drop it and make your night better. Oh, free PBR from 10-11, get there early, alky!
-Across the country, there's a new monthly starting in downtown Long Beach and
it's called

Redd
. This is an exciting one, as it's been in the works for quite some time, it's at a new venue and it's the continued move-making of some up-and-coming LA dudes.
DJs S!n, Luv Tek and Paparazzi
are the residents for this one, you should recognize those names from here as we've been talking about them a lot recently. It all happens at Sevilla Nightclub (140 Pine Ave.), 18+, this is your new Wednesday weekly.
-Of course, there's also old reliable in the form of Club Moscow at Boardners (1652 N. Cherokee) right on the Hollywood Strip. DJs Paul and Raulie along with host Keith Wilson have put together an essential weekly for LA, especially great flier this week.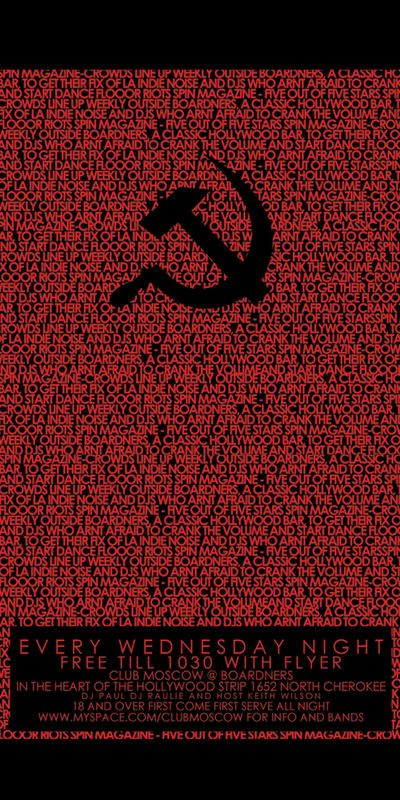 -I don't much about this midweek party, but I've got a good feeling about it. Future Days happens tonight at Upstairs at Sal's (12th & Walnut) and it sounds like its a chance to let your freak flag fly. DJs John and Liam promise "indie.drugrock.psychgaze.electricfreakout" music and while that's not our standard fare here, I can get into this. Good to see Sal's pushing the envelope still, request "Dark Star" when you go.
-Finally, Sal's superstars
Broadzilla
, the Thursday night DJ crew and party par excellance, are going to be spinning with electroclash vixens
Client
.
It goes down at

The North Star
(2639 Poplar St.) for a measly 10 bucks. I'll have to put up some
Client
, but this is for fans of the electrorock stuff today, cold, detached music that we'll remind you why you're dead to the world.
Buy tickets here
, good show.