This one was a pretty easy call tonight. DJ Funk is spinning at the special Memorial Day weekend edition of Era Disco. This one's appropriately called Bounce Dat Ass and there's no other place LA people should be. I mean, it's DJ fucking Funk, you have off tomorrow, you're just going to go some lame barbecue anyway, so you can be hungover. Head out to 3252 Mission Inn in Riverside, I'm not totally sure if the name of the club is [club] ERA or if the night is ERA, but who gives a shit? It's DJ Funk! Oh, and you also get LA's own Paparazzi, who I mention here like 20 times a week and the residents DJ S!n and Luv Tek, who are going to be a real force to reckon with in LA. $5 before 11, get there early.
-Also make sure to hit up Le Disko LA-ers, as Daniel, Keith 2.0 and special guests Royal Rumble give it to you raw, indie raw. This is one of the best weeklies anywhere, still going strong at their venue, The Spider Club (1735 Vine St.) It's free with a flier before 12, $5 after, atsa deal!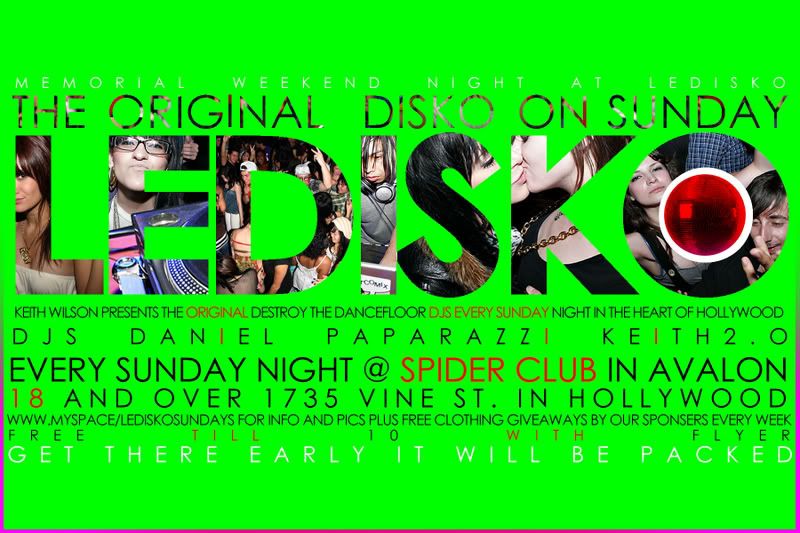 -Damn, LA is just killing it. Here's a late addition, thanks to my girl z. for this one and thanks for her super adorable new flick, it's a party called Part Time Punks, a weekly jawn at The Echo (1822 Sunset Blvd) dedicated to "obscure and classic music coming out of America, the UK and Europe from 1977 to the present: Punk, Post-punk, Punk-funk, New Wave, No Wave, Indie-Pop, Twee, Grunge, Electro, Minimal-Synth, Shoegaze, Baggy, etc.." A look at past fliers suggest that they have a special place for the no-wave, Factory Records, late 70s, early 80s period that is so dear to this blog. Tonight, Tussle and Yacht play live, doors at 10, rsvp bennyshambles@sbcglobal.net, 18+, we'll have more to say on this party fa sho.
-Same state, different city. The Ladytron DJ tour rolls on, as the duo hits up San Francisco, where they're joined by Sleazemore of Lights Down Low. I caught them at Hiro in NYC Thursday night and was pleasantly surprised, particularly considering my low opinion of non-DJ DJs. Head to the Rickshaw Stop (155 Fell St.),
Blasthaus has the tickets and info
.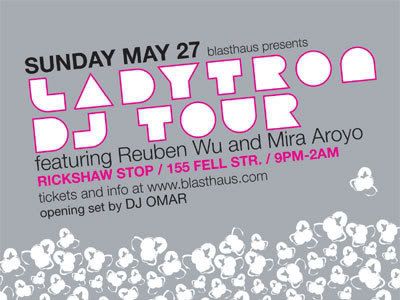 -Finally, there's a party tonight at Key West (207 S. Juniper St.). You know how much I love that place and its amazing dancefloor and sleazy vibe, you know how much I love JHN RDN and Thom from Broadzilla, so you know I must love this Sunday night one-off. Diamond Girl from Hands & Knees and Kyle from Bleached Black are also spinning, it's free, you'll love it.