One of our favorite parties anywhere is back tonight on a new night in a new venue. Check Yo' Ponytail is taking over Saturday nights in LA, doing their thing at the Echoplex (1154 Glendale Blvd) and they're kicking it off with a bang. Crystal Castles is the special guests, along with Purple Crush, joining the resident DJs Franki Chan and Paparazzi. This is another Iheartcomix jawn, as they're joined by Urb, Viva La Rock and The Echo in trying to make the kids dance. Also, awesome flier, nice to see another breast-obsessed person making moves out there. Take a bow if you made this.
-Or, you can welcome on of NYC's finest, as Nick Catchdubs is the special guest at Certified at The Mountain Bar (473 Gin Ling Way). Don't know much about this party, whether it's a regular thing or a one-night only, but I do know that Nick will kill and this is a chance to finally mention the Evans and Eagles bols, who are also spinning tonight. RSVP at Certified.LA@gmail.com, no cover, lovely.
-It's a serious LA night, so Los Angelenos, make sure to stop by Safari Sam's (5214 Sunset Blvd) for Club Moscow vs Hang the DJs. Since I'm assuming that's a Smiths reference, I'm pulling for the Hang the DJs crew. The battle line has been drawn.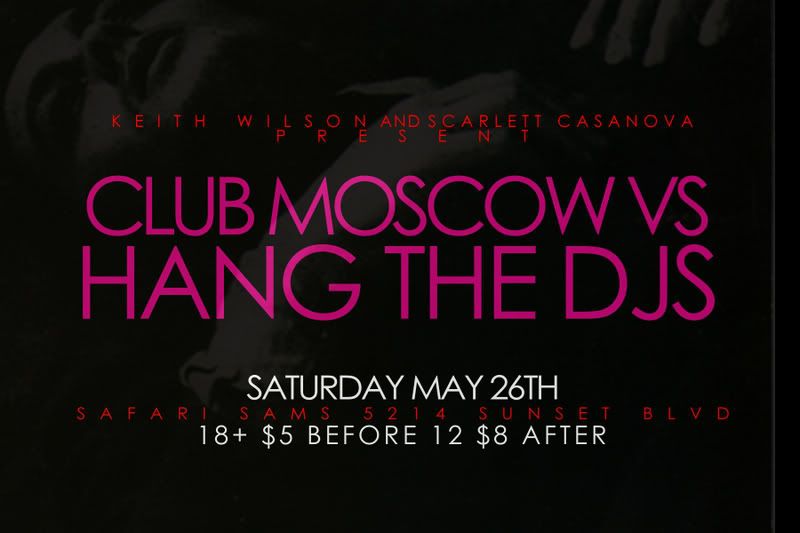 -San Jose
-Moving to the center of this misguided country, my bol
Soviet Panda
continues to try to put us on the right track with
his Too Much Love party
. Minneapolis, get behind this, it's an amazing party. Tonight, Panda's joined by Blk:Mrkt and Nyteowl for a night of raviness, going down as always at First Avenue (710 First Avenue North).
-Chicago, have you almost let the month May pass by without celebrating Masterbation Awareness Month? Well, lucky for you Mother Hubbard and Miss Gab are doing their Pussy Galore Summer Camp in honor of it tonight. Get to the SubT Lounge (2011 W. North Ave.) for free lube, great tunes and g-d knows what else. No cover.
-
Hot Fucking Pink
seems to singlehandedly be trying to save Boston. They continue tonight with their Saturday night party at Axis (13 Landsdowne St). This one's extra dope, as Todd Fink and Jacob Thiel of The Faint are stopping by after their show Avalon to spin a DJ set. I mean, really Boston, where else could you possibly wanna be tonight? Residents Michael Savant and Knowlton Walsh are reason enough to his this one up. RSVP to michaelsavant@yahoo.com for $5 admission, free with a ticket to The Faint show.
-New York City, a new monthly is going down at Rififi starring the Flagrant Fowl people - Cousin Cole and Pocketknife. Not only is tonight the kickoff, it's also Cole's birthday. To celebrate, they've brought in Krames of Richmond's Cobra Kai for guest set, along with Dainjah from Sweden. Oh, and you can't forget Miss MK of the Hot Hens, who opens the night.
-Last but certainly not least,
A Fly Is On The Wall
presents the 1st Anniversary Ipod Battle at the Cabaret Just For Laughs (2111 St. Laurent) in Montreal. Best of all, Brooklyn's finest
A Finger On The Pulse
are battling it out with a ton of other crews like Jokers Of The Scene, Lessies On X, Nu Ravers On The Block and many more, this is gonna be a crazy night, I feel. Peep the flier too, as it's simply amazing.