The Dells, "Get On Down (Theo Parrish re-edit)"
(
YSI link
)
Minnie Ripperton, "Stick Together (Theo Parrish re-edit)"
(
YSI link
)
It's another beautiful day, the kind that makes you forget your troubles. I had a great night last night as well and so I had to put up some beautiful, uplifting tunes, the kind that I don't normally give you guys. LOL ROTFL :) BRB. Here's volume 4 of
Theo Parrish's Ugly Edits
series, which we looked at last week. Not much more to add this time, it's just more gorgeous soul and r&b flavored disco and house that you should have in your life. This is love music, people, plain and simple. Play it when you watch someone vomit in your subway car (true story) and you will forget all about that and smile. Play it for your girl and just lay in bed together.
-If I could be one place in the world tonight, it would have to be in Paris. Actually, that applies for any day of the year, but especially tonight as a massive party jumps off. I will simply list the names at Scala tonight - Diplo, Low Budget, Switch, Sinden, Teki Latex, Surkin, Das Glow and Bobmo. Brought to you by Institubes. I will be in Paris before the end of the year. Get at me Parisians.
-G-d damn, those in Philly need to get their asses to
Paradise at Key West
for the chance to hear music just like the stuff above. Mike T and Ron Morelli's party is one of my favorites in the city, an homage to the old days when clubs were dark and anything can happen and the music helped those things happen. They're joined by Apt One of the Philadelphyinz and Shawn Ryan of Hurrah for a night of sleazy disco, italo, electro and house in one of the coolest dancefloors in the city. Mirrors, people, mirrors.
-There's no better way to celebrate this beautiful May day than partying with the Broadzilla crew. It's their weekly Upstairs at Sal's jawn, insect themed tonight. You already know how I hype this, stop sleeping.
-Have you ever wanted to spend like 8 hours at the same spot with only a staircase taking you from one party to the next? Well, Carmine P. Filthy has heard these wishes, which probably don't exist, and made it happen tonight at Happy Ending (302 Broome St.). Early in the night (6-10pm), it's Hustle & Glow which is all about the great sounds of the 70s. Can I just say how necessary this is? Music is done by Louis Gorbea and Brad Lebeau, all brought to you by The Get Down. After that, hit the basement for Even Further with Mr. Filthy spinning.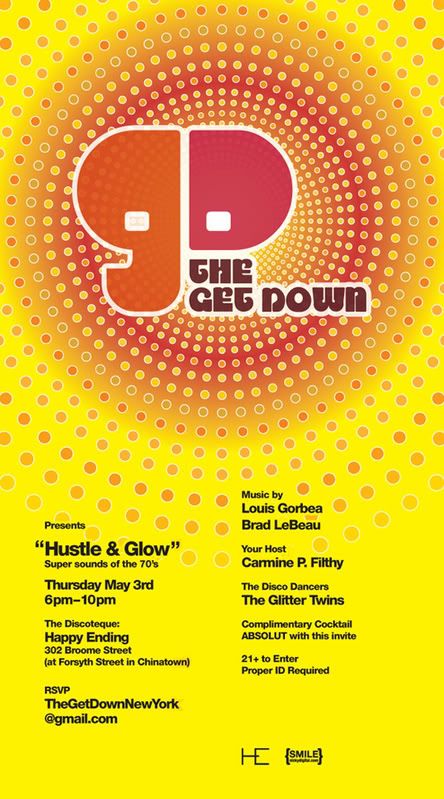 -A little further up, that kid DJ Tiny Pants and Alyssa Key are doing a DJ set from 12-1 at Lit (93 2nd Ave) for Neu Berlin! They're joining DJ Ash, James the 808 and Paisley Longthrob (do better) for a night of new wave, acid. Not sure what the connection to Berlin is, but I do know that DJ TP and AK will kill it and you will order Sparks without shame and you will have a good time.
-Or spend your night with Dimitry, first at Rebel for a Theo and the Skyscrapers show, then our bol heads to Home Sweet Home to DJ with the Sweatshop Labor DJs from 11-12 and then finally he's hosting as always at the Thursday night Cheeky Bastard madness at Hiro Ballroom (371 W. 16th St.). Tonight, 33HZ plays live, although I'm most excited about the DJ set from Ursala 1000. Oh and the Brazilian Girls are there too.


-
Late Update: I thought the West Coast was catching up lost sleep from Coachella and Ed Banger and Check Yo Ponytail, but no siree. SF's Sleazemore is out, guest DJing at Voda (56 Belden Place), a swank looking lounge so you can get your sexy on. He joins residents and Polocorp and Nale for Voulez vous danser Darling?, which I think is the party name. FFR, being Parisian, French party names and sick fliers that look like Man Ray photos will guarantee you coverage on Pound for Pound. Just FFR.