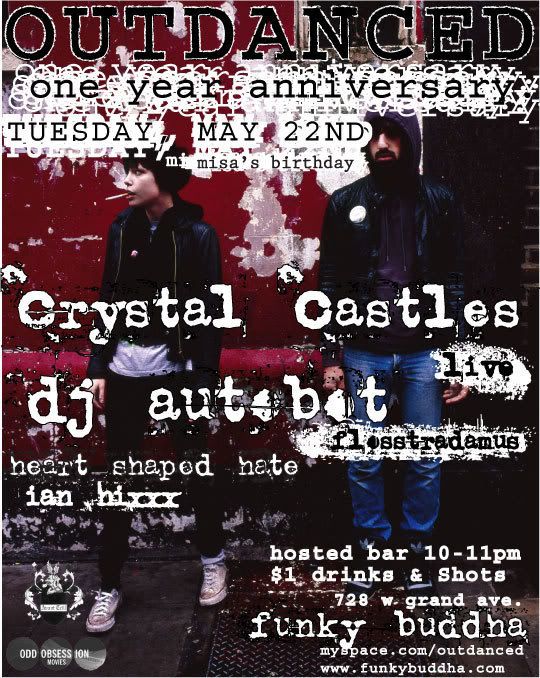 Sorry for the slow party announcements, I've been swamped with work and exhaustion from a long, crazy, fun weekend. But, those are excuses and there are no excuses when it comes to a hedonistic party life. Back out to Chicago for the pick of the night and it's another Windy City birthday.
Outdanced
celebrates its first anniversary and they're doing it in style with a special set by
Crystal Castles
. I'm a huge fan of this duo, but that's not the only treat. There's also a live set by Heart Shaped Hate, a set by DJ Autobot of Flosstradamus and Ian Hixxx. Most importantly, there's an open bar from 10-11, which means that you can't be fashionably late. So put on your skinny jeans and get to
The Funky Buddha
(728 W. Grand Ave.), rsvp to outdanced@yahoo.com for reduced admission. Yeah.
-Check Yo' Ponytail is back in Los Angeles, new and improved. It took a month or so off, returning tonight in a new spot but with the same amazing DJs and special guests. This one features the Spank Rock DJs, Devlin and Darko, which means a night of Baltimore bangers. You also get Pretty Titty, Franki Chan, DJ Pubes, photos by shadowscene, and a chance to be at one of the best parties in the country. It's at The Echo (1822 W. Sunset Blvd), more to come on this party for sure.
-Up the coast, Hold Yr Horses goes down at Aunt Charlie's (133 Turk & Taylor) or its bi-monthly slot. Tonight, you get a special set by Sleazemore, who join bigstereo.net's Rchrd Oh?! $3 for a night of fun.
-Tuesday's the night for freaks to come out in Philly. First up, Steven Bloodbath does his weekly Love Buzz at Bar Noir (112 S. 18th St.) with all of the rock and metal you can handle.
-Finally, my bols rekLes and seanmotherfuckinroberts, a.k.a.
the lewd bols
, continue to do the damn thing. They've got The Bravery on their minds this week and next. Tonight's the album release party. Even cooler, if you go and
rsvp at their going entry
, you'll be entered to win 2 free tickets to The Bravery show next Tuesday at Irving Plaza. Free tickets!
Just click this link and rsvp
, then show up to The Annex (152 Orchard St.) and wait for the winning name to be drawn. While waiting, drink and listen to great music and get your pic taken by
Brad Walsh
. Then, when you win, celebrate like the craziest fuck on the Price Is Right and know that this is your summer of George.