Slim Thug, "Problem Wit Dat"
(
YSI link
)
Paul Wall feat. Jermaine Dupri, "I'm Throwed"
(
YSI link
)
I am working on a lot of little pieces for papers this week and am damn near burned out on words. But, there's a few good parties going off, so I just need to suck it up and put my fingers to the keyboard. It seems like a good time to get up a few more of the tracks coming out of Houston.
Let me first say, I love
Slim Thug
. There's just something about the voice, it sounds like it was already chopped and screwed. His rhymes are dope, he's got a great flow to my ears. However, I got to say that this song,
"Problem Wit Dat,"
isn't really doing it for me. I think that the instrumental just doesn't work for me, it so doesn't fit Slim and that drawled voice and gangster vibe. It's a horns laden jawn, something I could imagine Swizz Beats dropping (wait, did he produce this?).
More successful is the
Paul Wall
song,
"I'm Throwed,"
which features
Jermaine Dupri
in his usual shapeshifting form, suddenly materializing as a H-town producer banging screw and sippin' syrup. I know people like to hate on dude, as he sort of follows the trend or whatever, but there's no denying that he drops bangers and this one is real good. Listen to the theremin horror movie sounds right below the surface, it sounds soooooo good. Other than that, it's pretty standard Paul Wall verse, it's got a good refrain and is another reason to look forward to the Paul Wall album and whatever else comes out of Houston in the next few months.
-Not hard to pick the event of the night, when two of my favorite labels come together in LA. Modular and Dim Mak are doing the damn thing at Cinespace, which means that you get a live set by Softlightes and Head Like A Kite and DJ sets by Steve Aoki, Them Jeans and Dan-O. Did I mention the vodka open bar from 10-11 and that cobrasnake will be there to take your photos when the alcohol sets in. Yeah, you know you need to be at this. Oh, and I absolutely love the flier, the colors and design make me happy. If you did this, take a bow.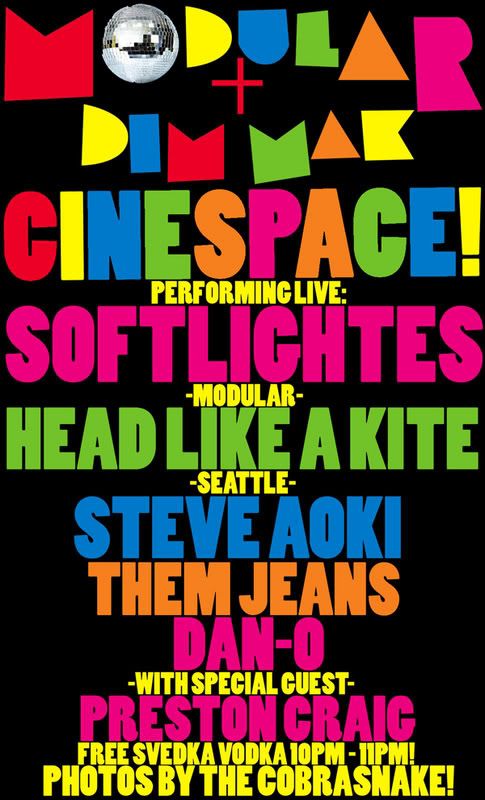 -My girl DJ Almost Tropical continues to hold it down in the world capital of dance music, Berlin. Tonight she is joined by Maxx at the King Kong Klub for a night of good music and fun. Oh, and there will be a special guest, who is a soon-to-be subject of a Pound for Pound post and opened for LCD Soundsystem in NYC and goes by the initials PTR. Okay, it's PlanningtoRock, the amazing musician who is about to take over the world.
-Finally, I've been called a jealous guy by a few people, namely those I have dated. Well, I've become a new man on that front and to prove it, I hype this party put on by one of my blog superiors, BIG STEREO. Hold Yr Horses has a great name, DJ Rchard Oh ?!, $3 cover, lots of good genres. Get to Aunt Charlie's (133 Turk and Taylor) every second and fourth Tuesday. But always remember that this is the greatest blog or we're broken up. Jaykay.
-