It may be a new format, but that doesn't mean that we're going to stop hyping our favorites. You know our Wednesday night favorite, High Voltage at Sutra in the East Village! For real, I've been talking about this one since the beginning, but Dimitry and Jason don't need me anymore. They've turned this into one of the best parties in the city, let along the best Wednesday night jawn. It's got everything you want - great DJs, tons of special guests, great music (on the rock and dance side of the ledger), open bar, attractive people who will offset my unattractiveness, err, I mean, whatever, shutup. Tonight's no exception, as the Sweatshop Labor bols are guest spinning, along with Gina Bon Jersey and Jenny Penny, there's the Zygo open bar from 11-12. My favorite part is that there's going to be a special appearance by
the girls of

Godsgirls.com
, which appears to be some sort of indie porn (I almost got thrown out of this cafe for that click-over). As loyal readers know, there's nothing Pound for Pound likes more than naked indie girls, so this is like a
-Down in Chinatown, Moonwalk goes down at Happy Ending (302 Broome St.) Resident DJs Rezound and Workweek of War and Moon have invited Frog a.k.a. Dances With White Girls to drop some dance-y music. Also, my bol David Bruno of Slap You In Public has his Neon party, I guess on whichever floor Moonwalk isn't on. Just go and get lost and dance whereever you feel like it.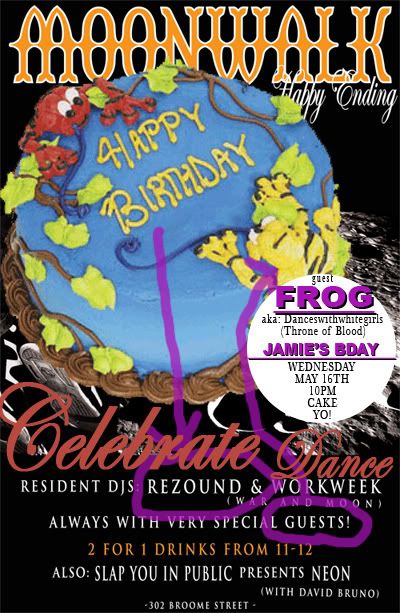 -Back in Philly, Mike Simonetti is the special guest for tonight's Hurrah at Upstairs at Sal's and that's a good thing. Simonetti is one of the masters of italodisco and that's a good thing.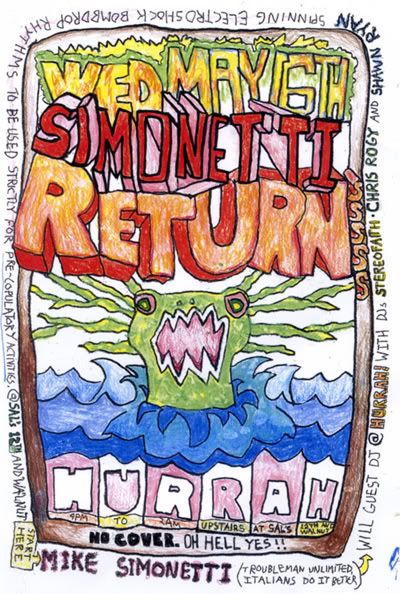 -Dave P is spinning at the Khyber tonight as well, joining AJW for Driz Horse. No flier, but I promise this is true.
-Let's end with another great weekly party, this one out in LaLa Land. Moscow goes down every week at Boardners (1652 N. Cherokee). Tonight it's LA vs Vancouver, yes, Vancouver, as DJ Cam Dales comes down from the north to conquer our non-universal health care asses. DJ N holds it down for LA, and let's be honest, the entire United States of America. This ain't no simple dance party. Great flier, btw.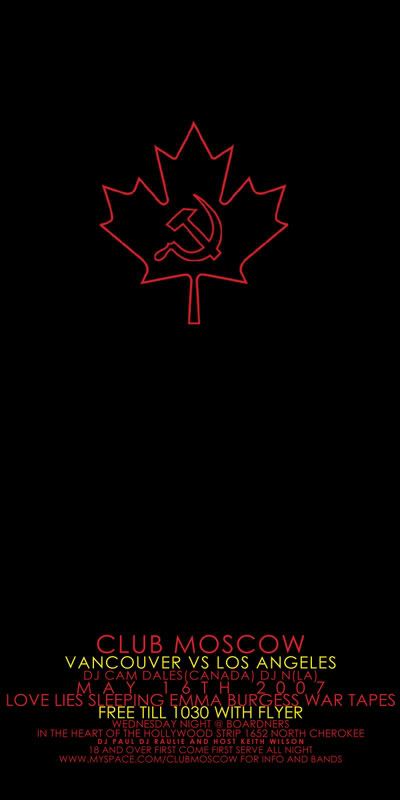 -