Audion, "Just Fucking (Roman Flugel's 23 Positions In A One-Night Stand remix)"
(
YSI link
)
Hot Chip, "No Fit State (Audion remix)"
(
YSI link
)
I've been meaning to talk about
Matthew Dear
, Ghostly International and that whole techno scene in Ann Arbor. I can't think of a better way to start than with Dear's alter ego,
Audion
. Audion seems to allow Dear to pursue the booty part of his mind, the more house-oriented side of things. I went with one of his best singles,
"Just Fucking"
to get things started and give people a taste of what to expect. Whoa Nelly, the original is fucking rager from the start. It has a bassline is like a car engine being played by Larry Levan or something, sick and twisted and unstoppable. The remix is by
Roman Flugel
is a more subdued affair, featuring some gorgeous keys throughout. It doesn't have that bassline, which gives it a more minimal sound to my ears. It's beautiful, well-worth the download.
You know I love me some
Hot Chip
and love white labels even more. Bring them together and I'mma happy boy. Here Audion takes on a track from
The Warning
,
"No Fit State."
This one's much different, a sort minimal glitch remix of the original, almost draining the heart out of the Hot Chip version. Give it a chance though, as it might not sound great at first but it will with repeated listens. Headphones are a great idea, btw.
-I'm so excited for this one, people. My bol Dimitry is celebrating his birthday tonight and he's doing it in style at his own weekly party, High Voltage. For those who've taken my advice and got their asses out to this party already, you know that this is the best midweek jawn in the city, good DJs, good crowds, the whole deal. This one's gonna be extra special with guest DJs Eli Escobar and Ultragrrrl, vodka open bar from 11-12, Dimitry completely wasted and dancing on the dancefloor. I'll be in the house, you need to be too.

-Also make sure to hit up the latest Project Matt blastoff, this time at Savalas with Turntable Lab's Egg Foo Young. I'm hoping for lots of Dirty South bangers to knock some sense into all of my fellow Williamsburg hipsters
-LA, get to Awesometown tonight and be awesome. Dirty Dave and Anne Lee's jawn features a guest set by one of my fav deejays, Daniel from Le Disko. You also get a guest set by High Speed Dub from Get Famous, photos by shadowscene.com, and a record release party for Sea Wolf. It all goes down at The Bus Stop (1455 W. Sunset Blvd).
-Between LA and NYC, the Kampfire Killaz and Jordan Z do it rill big with the We Love Chicago party. That's so funny, as I totally love Chicago too! Get to the Continental (2801 W. Chicago) and feel the love vibes.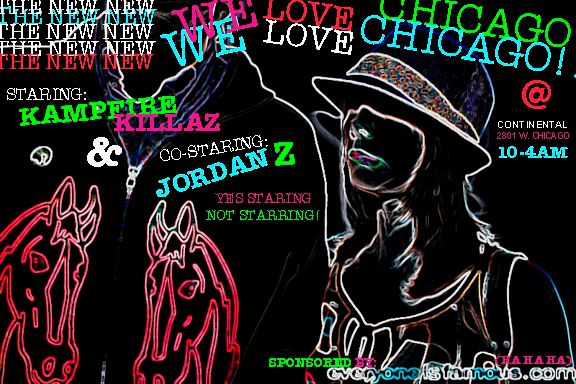 -Summer's is almost here and that means partying outside and on rooftops and in parks. The good people of Montreal have another option the entire month of May with
Patio Lanterns at Vinyl
(2109 Bleury). Brought to you by the Lookout Crew, every Wednesday in the month of May you can hear Huggs and Dojo spin and start the summer of '07 off right.
-If you're in Minneapolis, check out the !!! show at the Fineline (318 1st Avenue North), where our bol
Soviet Panda
is spinning beforehand. Flosstradamus cancelled, but I'd rather hear SP anyway.
Grab your tickets here
and have a blast.
-Finally, if you are in Philly, tune into radio station WKDU tonight from 7-9 to hear dance music don John Redden spin.