Popular Computer, "Clone Age"
(
sendspace link
)
Italian X-Rays, "Strip Down"
(
sendspace link
)
Metronomy, "This Could Be Beautiful"
(
sendspace link
)
One of my favorite strategies to combat depression or sadness is to buy lots of new music. Some call it retail therapy, I call it survival of the blogger, whatever. Anyway, thanks to Tower's bankruptcy and inability to learn how to competitively price, I had a huge windfall Sunday night. The fruits of that day will pay off for the rest of the year at least.
First up is the phenomenal
Kitsune Maison
compilation
. I was shocked to find this in the racks, as it definitely didn't seem like a label that would be on their radar. I was more shocked that it was the first compilation, not the more recent, second volume with Bloc Party, MSTRKRFT, etc. Whatever, it was there and I copped. It was well worth it, as this one is nearly as good as Volume 2. It's got a more relaxed sound for the most part (especially on the tracks above), but overall you get a collection of songs testing the boundaries of house music. I've chosen a few of the tracks that I hadn't heard before, but you get Digitalism's monstrous "Zdarlight," Hot Chip, VHS or Beta, Tom Vek and Architecture in Helsinki for those who don't like gambles.
My favorite is the album closer, "This Could Be Beautiful" by Metronomy. It sure is, a pulsing, melodic song that leaves you smiling at the end. Wonderful, the perfect antidote to the darker stuff I've been listening to lately (by lately, I mean the past 2 decades). "Strip Down" is pure Pound for Pound gold, heavy bass, talking about stripping down, filthy lyrics, yes please. Popular Computer's "Clone Age" has much more of a German techno feel. Unfortunately, the CD and LP appear to be out of print, keep an eye at Turntable Lab or Phonica for the LP.
-Versus Magazine SF
does their weekly thang
, this time with special guest DJ Richie Panic
-A heads up for the NYC kids, as my bol Dimitry is starting up a new weekly tomorrow night with lots of other people like Nicky Digital, Heidi Gallant and DJ Alex English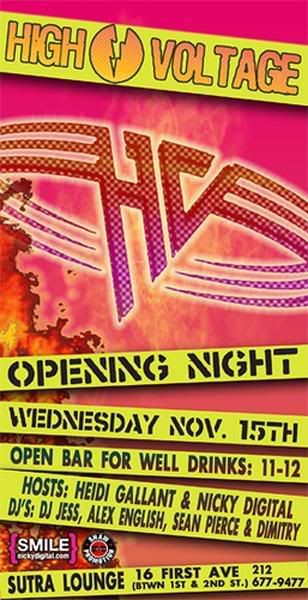 This is not to be missed, Pound for Pound approved.
-I'm sure that y'all have seen this, but
the three frat douchebags in

Borat

are suing
. Not sure if their parents and the South are also defendants for creating these embarrassments. Make sure to check out
the one guy's myspace photos
, which shockingly feature a John Belushi drinking poster and a confederate flag t-shirt.