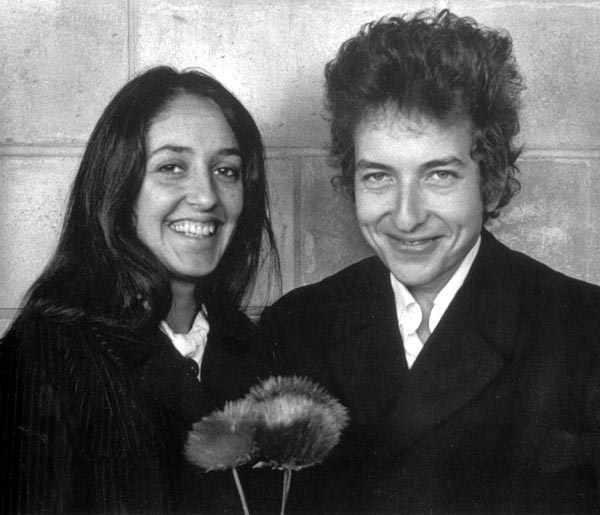 Bob and Joan looking super cute
Bob Dylan, Theme Time Radio Hour #26 (Halloween)
Bob Dylan, Theme Time Radio Hour #27 (Dance)
The first episode is clearly out of date, but the second one is never past its prime. There are very few things that I value more than dancing, on the real. I'm not good at it, occasionally descending into stereotypical white guy moves, but who cares? If anyone on the dancefloor actually gives a shit about how bad you look, I feel sorry for that person. On a small space filled with men and women gyrating and having fun, no one cares what you look like.
This leads me to a bigger thought, one that really doesn't connect much to
Bob Dylan
's music. The dancefloor for me has become a pivotal space for own thinking on music, an arbiter that I used to scoff at and now consider essential. When I was younger, music was essentially a solitary pursuit and in turn rhythm and sex and bass seemed useless. I listened to indie, experimental, the hard NYC rap, free jazz.
Clearly, I have done a 180 on that, as I've got older and come to realize how brilliant pop/dance music can be, how much more exciting it is to hear music that brings people together. Most of the divisions in music seem to center on the view of the dancefloor. The NYC hip-hop people seemed obsessed with music that is all about the lyrics and hardness, scoffing at the supposedly worthless snap music and crunk and Southern genres that are played for the strip club and dancefloor. Rockists are unable to appreciate any music that appeals to the body, that has an audience that could include teenage girls or those not in-the-know. There are other examples, from IDM to post-War jazz, but you get the picture. The one common theme, in my opinion, is a elitism that devalues the body and heart for the mind and intellect.
I've also been thinking about the notion of the dancefloor as site of equality, a place where race, gender and sexuality go out the window into a mass of people and movement. I tend to overstate these things, so I'd love to hear someone attack this from a feminist or