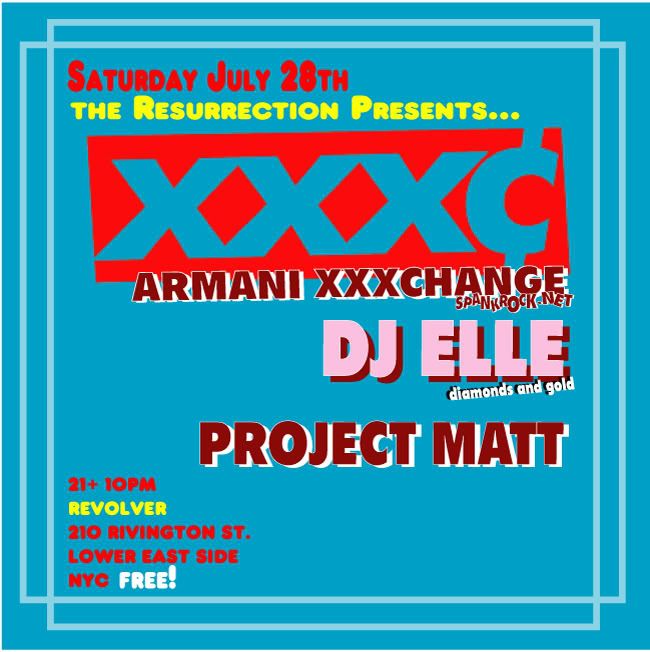 This is it, this is the party we've all been waiting for. New York has plenty of amazing dance music parties, from Lauren Flax to Fixed to Modular, you name it, but there's no where to go for just a great party with all kinds of music, where hip-hop is fair game, where the crowd is mixed and fun and dancing. Thankfully my dude
Project Matt
has returned to change all of that with his new Saturday night weekly at Revolver (210 Rivington btwn Pitt and Ridge),
Resurrection
.
I caught the first edition last Saturday (and would have done this post then if I hadn't fucked up publishing some stuff) and it exceeded my highest expectations. For real, this was the one. Catchdubs, Reverend McFly and Cousin Cole provided the tunes and like I said, no genre was off-limits. It was a packed house from midnight til 4 am, when the bouncers had to scream people out. Revolver has been around for awhile under different names and guises, but right now it's a great looking spot on the far east side of the Lower East Side. It's been renovated, nice amount of seating, a big bar, nice-sized dancefloor for this type of venue.
Tonight should be even better, as Spank Rock DJ Armani XXXchange and DJ Elle are the special guests. There should be plenty of rap, some Baltimore club, maybe some pop, these are two of the best. Oh, and Matt will hopefully spin this week, as I'd really like to hear some Cash Money Millionaires tonight.
So, seriously, I kinda wanna keep this secret, y'know. Like just keep it as it is, not get too hyped about it so that the inevitable wave of people who have ruined the LES otherwise, the lawyers and bankers who have turned my favorite hood into every other spot in Manhattan, who sit at Norfolk bars and talk about "macking chicks" or lawyer girls slumming it for the night. Ugh, Monk Eastman and Kid Dropper are rolling over in their graves. But fuck it, this is too good to be a secret. If you are in NYC tonight or any Saturday coming up, this is the essential stop, this is a chance to relive or bring back the old days of the LES. See ya there!