It's a pretty big Wednesday night, especially here in New York City. Tonight is the first appearance of Kompakt star The Field, as he is going to be spinning a set at Studio B tonight. This dude has out one of the best techno albums I've heard in a long time, I am totally psyched for this one! You also get DJ sets by Kate Simko of Traum and Spectral, Brian DeGraw of Gang Gang Dance and Scott Mou. It's all put together by the excellent NYC record store Other Music, a place I've been going to go for as long as I can remember for that weirdo music that makes life better. It's at Studio B (259 Banker St.), this one's strictly for the heads. See ya there!
-For those of you staying in Manhattan, here's your night. It's Wednesday, it's time for High Voltage, one of the best weeklies in this city. My bol Dimitry is joined by DJ Seva tonight on the decks and computers. I don't know much about Seva, other than s/he write for openbar.com, which is a really good sign as I totally love those emails and think the person writing the listings is way funnier than I'll ever be. Since it's High Voltage, you know you get the Zygo open bar from 11 until, well it won't really matter as you'll be too drunk to know what time it runs out. It's at Sutra, it's the final part of your night.
-You're going to start the night at
For Those About To Rock at Koca Lounge
(76 Orchard St.) That dude
Nick Hook from Men, Women & Children
is going to drop 4 hours of rock music for you as you enjoy $1 sake shots and $5 sake carafes. I've heard of this rock music and while I don't know much about it, I do know that Nick Hook will kill it and you won't even be thinking about the lack of breaks or when you're gonna hear Jay-Z. This looks like a weekly too, should be a part of the rest of your summer.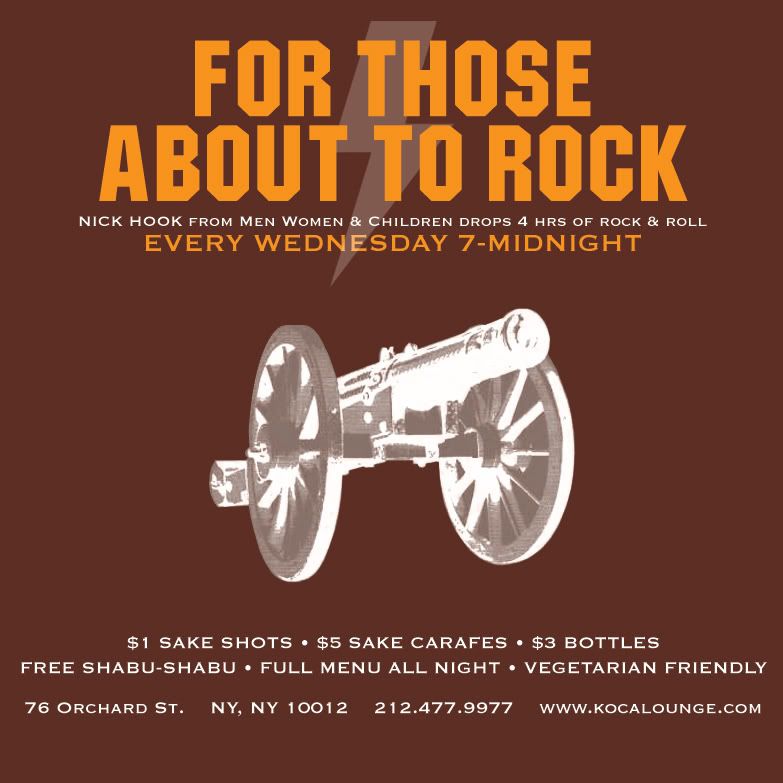 -Philly, Philly, Philly, I love you! Hit up Hurrah tonight, as special guest Pink Skull (Julian S. Process) is gonna melt your face off with punkfunkelectrohouse jams. That's on top of the good stuff that resident DJs Stereofaith, Shawn Ryan and Chris Rogy will throw at you. Upstairs at Sal's (200 S. 12th St.), this is the final edition of Hurrah on Wednesday, as it's moving to third Saturdays from here on out. A much deserved promotion, yeah! Oh, and whoever made this flier deserves a hand. Simply awesome, I want to listen to the Dead and do drugs and lay in a park while looking at this, I can give no higher compliment.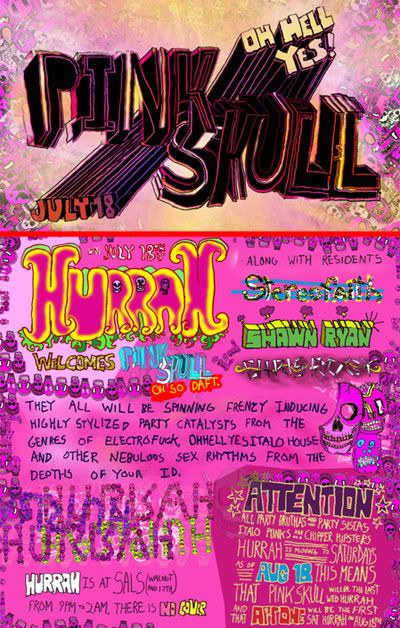 -Heading out west, Miami's Lazaro Casanova invades Redd in Long Beach, CA. Casanova's a name that I should be mentioning more, one of those young bols who are killing it on the indiedance tip. He's gonna be a part of a great party with likeminded talents from LA - DJs S!n, Luv Tek and Paparazzi - more names everyone should be talking about. It's happening at Cafe Sevilla (170 Pine Ave.) and let me tell you that I've seen pics of previous parties and as far as I can tell only cute girls are in attendance.
-Finally, Miami is in Long Beach and NYC is in LA. June D of White Doves is in LA LA Land for tonight's edition of Club Moscow. Keith Wilson's party is still doing the damn thing at Boardner's (1652 N. Cherokee Ave.), with up and coming bands and great DJs. Get there on the early side to make sure you get in, free til 10:30 with this flier.
-Finally, so much exciting shit is about to jump off. M.I.A. at Studio B tix go on sale tomorrow at 10 AM, new Project Matt party in the LES Saturday