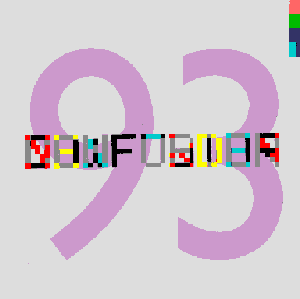 New Order, "Confusion (12" version)"
(
YSI link
)
New Order, "Confused Beats"
New Order, "Confusion (Instrumental mix)"
New Order, "Confusion (Rough mix)"
(
YSI link
)
New Order, "Confusion (Pump Panel Reconstruction remix)"
(
YSI link
)
New Order, "Confusion (Koma and Bones Remix)"
Okay, I assume everyone saw this coming, with all of the
Factory Records
talk and
Joy Division
post. The label's most successful act,
New Order
, was formed out of the ashes of Joy Division after lead singer
Ian Curtis
killed himself. Okay, I'm predictable, sue me! Once you get that taken care of, you need to remind yourself of how amazing New Order's music was and how open they were to the sounds of the time.
"Confusion"
might be
the
track that could be held up as a
Pound for Pound
track. It was a New Order single, produced by
Arthur Baker
, mixed by Baker and
John "Jellybean" Benitez
, mixed in New York City in 1983. Everyone steps it up to create one of the group's best tracks, although not everyone has probably heard this amazing version. Oddly, the band decided to re-record this for Substance, the double LP collection of their 12" singles. While that one's good, it's a far cry from the electro masterpiece Baker and Benitez first dropped. This one's got it all - drum machine, handclaps, methodical bass, keys, shouts of "Confusion!," lyrics about a confused woman the dude's trying to date, ooh wee, this is the cat's meow. The Rough mix is also essential, a stripped down version of the 12" and a great chance to hear that colder, more robotic electro sound.
The two recent(ish) remixes are quite good, especially the
Pump Panel Reconstruction mix
. That one is straight mid-90s, Prodigyesque damage, pounding drums, frenetic pace, twisted vocals, totally unlike the original, which is probably why it's so effective, it's a rager. FYI, this version was used in the "rave" scene during the movie
Blade
, just FYI. Oh and if you already knew that, you probably need to get out more too or start really taking those netflix recommendations seriously. The Koma and Bones remix is much less claustrophobic,