Okay, it's Tuesday night. You're thinking, "I just want to stay in and listen to some Indigo Girls, maybe watch some tube and see if there's a documentary on Discovery Health about 1000 pound men or 200 pound tumors, chill out." Oh no, my friends, tonight's the night to go out, the night when all of the amateurs and douchebags are at home planning their Friday and Saturday nights.
Bad Music For Bad People
is exactly what I have in mind for my Philly people. This is a weekly I've been meaning to highlight for a minute now, another of the great parties that is going down at Sal's (200 S. 12th St.) This one features the weekly DJ stylings of He Said/She Said, a twin brother/sister combo that will prove it is in the genes, and Joe Licht. This week, they're being joined by Diamond Girl of Hands and Knees fame. This will be a serious dance party, no joke. To take it over the top, $1 PBRs, $2 Sparks and $3 mixed drinks early in the night, which will make the end of the night that much better and blurrier. Yeah!
-New York, here's your chance to remember what the Lower East Side once was a few short years ago, before the lawyers and investment bankers moved in.
Cardboard City
will remind you that it used to be about having fun at cool spots with good people and DJs. Get to 205 Chrystie where DJs Glue, Nick Hook, Daryl Palumbo, Shanedaddy and Link spin til the wee hours. It's free, it's downtown, it's Cardboard City.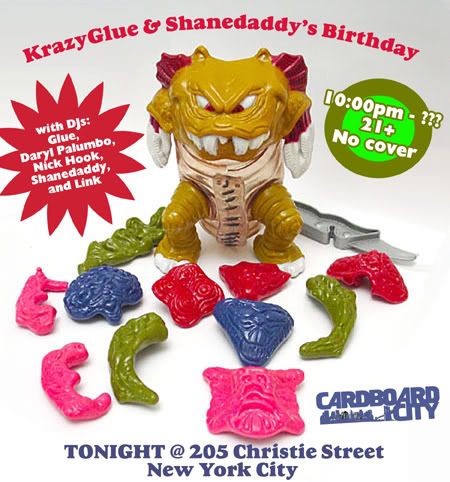 -Finally, Chicago,
Outdanced!
is going down tonight at Funky Buddha (728 W. Grand Ave) with DJ sets by Erika and Scott (it took me like an hour to realize it was two people, not one person named Erika Scott) i.e. Office, hosted as always by Jillian and Scott. Okay, you're thinking, sounds good. But, Pound for Pound, I want great. Did I mention that vodka shots are ONE DOLLAR?!? Boom, game over. Get there.