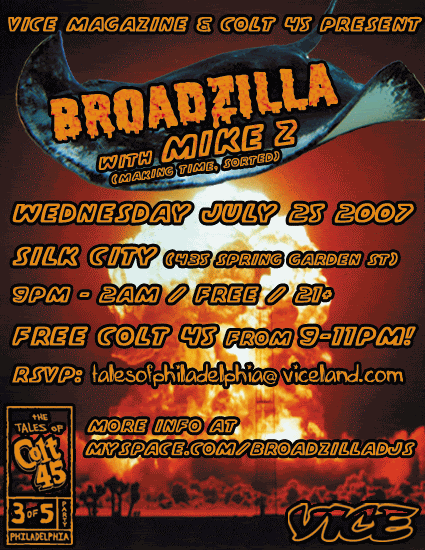 Holy shit, it's a huge midweek kids, so let's get down to business. The
Broadzilla
crew continues to get bigger and stronger and meaner, as they are moving up the food chain, destroying everything in their sights. Seriously, these guys have been working hard and I feel like this is a nice big step up, as they take over Silk City (it's back!!!) with Colt 45 and Vice for a night of debauching and dancing. They're being joined by
Mike Z of Sorted
fame, RSVP at talesofphiladelphia@viceland.com, but don't stress if you didn't as you'll still be able to get in. Free Colt 45 from 9-11, free, 21+, this is it. I'm really psyched for this crew, expect this to be the start of bigger and better things. Do this, Philly
-Holy shit, LA, are you guys just feeling or what? Daft Punk over the weekend,
The Rapture tonight and tomorrrow
. Well, one of our favorite parties,
Awesometown
, is doing the afterparty for tonight's show and it's gonna be a doozy. You get the Throne of Blood DJ crew, i.e. The Rapture guys spinning, along with Dirty Dave and Cosmic Kids. Oh, and did I mention the last minute addition to this line-up? Some dude called DJ AM is going to stop by and do a set. I'll quickly add that recent reports about Mr. Nicole Ritchie have been amazing, people telling me that he's the best DJ they've heard hands down. Anyway,
Anne Lee and Dirty Dave
have done it again, this is gonna be massive and packed and fun.
RSVP at going.com
, you have to if you wanna get in here. Once you take care of that, head to The Short Stop (1455 W. Sunset Blvd) and continue the greatest week evah.
Don't forget to RSVP
.
-Los Angelenos, also make sure to check out this
Vapors Magazine party at the Rec Center
(1161 Logan St.) where the second episode of
skate TV show

United By Fate
will show. There's some open bar action and lots of sponsors, but the main reason to stop by is to catch one of NYC's best DJs, Mr.
Stretch Armstrong
. Since I'm doing Friendster testimonial shit tonight, lemme just say that Stretch has been one of the best DJs I've seen over the past year, a dude who kills it everytime no matter what, dancefloor dominance, all genres, skill, a pro.
RSVP here
and you can find out for yourself.
-Last but not least, Club Moscow jumps off with Daniel Le Disko of LA Riots, who will be hearing more about later this week. Live music by Emma Burgess, Audrye Sessions and Wallpaper, residents DJs Paul, Raulie and Keith Wilson. Get to Boardners (1652 N. Cherokee) before 10:30 with the flier and it's free.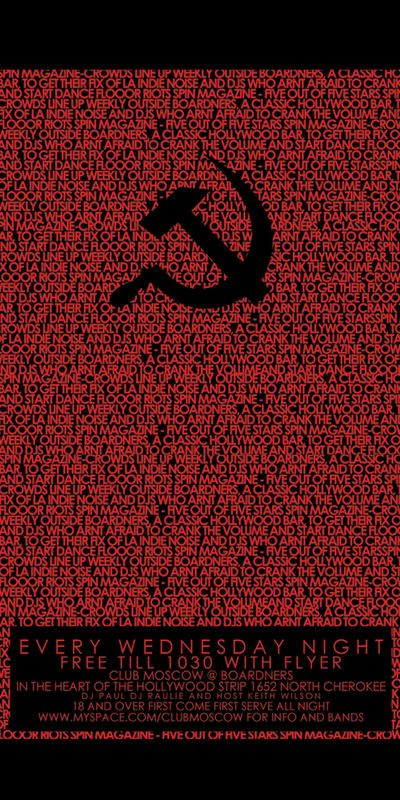 -Ahh, High Voltage. It's more than 6 months now that Dimitry has been doing this one and it's pretty established as one of the best parties in the city, packed house, sweaty dancefloors, young beautiful people. It's one of those ones that doesn't need any special guests or anything to sell itself. But when you have DJ Eleven from The Rub, you know that it's gonna be real serious. Rob Hitt will also be in the house and Dimitry, the next DJ AM, will hold it down too. Sutra (16 First Ave.) tonight, Zygo vodka open starting at 11, yep yep.
-Earlier, hit up For Those About To Rock for some amazing sake deals and a chance to drink said sake while listening to Def Lepard and Lynryd Skynrd played by DJ Nick Hook. It happens at Koca Lounge (76 Orchard St.) and really is the perfect way to start the night and being in perfect position to hit Sutra and Savalas later.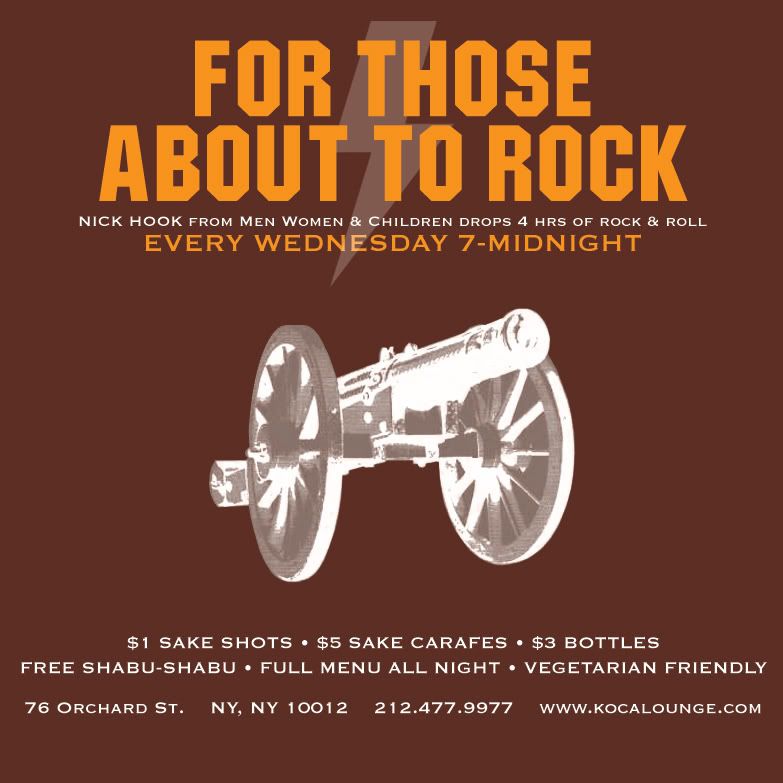 -I'm gonna wrap this post up with non-fliered parties, as these are dope events with great DJs and sometimes that's what matters. Brooklyn, hit up Savalas (285 Bedford) where Project Matt and Reverend McFly kill it with booty bass, rap, bangers, you will drink fun, girlie drinks and show how thug you really are. Frozen margaritas are the new Cristal.
-The Smashing Pumpkins/Moving Units afterparty happens in San Fran tonight at Beauty Bar (19th and Mission) and you get Blake Miller of Moving Units, Sleazemore Rchrd Oh!? and Joselito keeping that Billy Corgan high going.
-Finally, there's a new monthly starting in San Francisco at The Ambassador featuring the deadly DJ duo of Vin Sol and Jefrodisiac. There's no flier, but I'm hoping that my mention of this fact will be the gentle chiding that is needed to get one for next time. Last Wednesday every month, soul and disco music all night to chill you out midweek.