I mention this party all the time, the
Cheeky Bastard Thursday night at Hiro Ballroom
(371 W. 16th St.@9th Ave) jawn. It's hard not to when they bring in some of the top DJs and bands week after week, the only party in Manhattan that's taking it to that major league level. Tonight's edition is a really special one, as one of my favorite bands in the world,
Kudu
, are playing. I really cannot recommend this band and show more; in fact, I need to do a post about them next week, no doubt. Anyone, not only do you get one of the best music groups around, you also get two of the best DJs in the form of
Devlin & Darko
, better know as the
Spank Rock DJs
. It's also the 11th Anniversary for BPM MagazineExpect lots of Baltimore club, dance, hip-hop, hell I don't need to sell you on thse dudes.
RSVP at their going.com page
for free entry, 2 for 1 vodka drinks from 10-11 and the always dangerous 2-3 period. Oh, and APT is a few blocks away, where the Dirtybird party is. Just sayin'.
-Speaking of Thursday night regulars, my dude
Carmine P. Filthy's Even Further
always has a place here. There aren't a whole lot of NYC parties that really get it, that know that good music, good vibes and debauchery are much more important than who's taking pictures or what famous person showed up. This is just an old-school party, it takes over the basement of Happy Ending (302 Broome@Forsythe) every Thursday. Tonight's special guest is DJ Homeless Steve, although I imagine he has a home and will not ask to crash on your couch.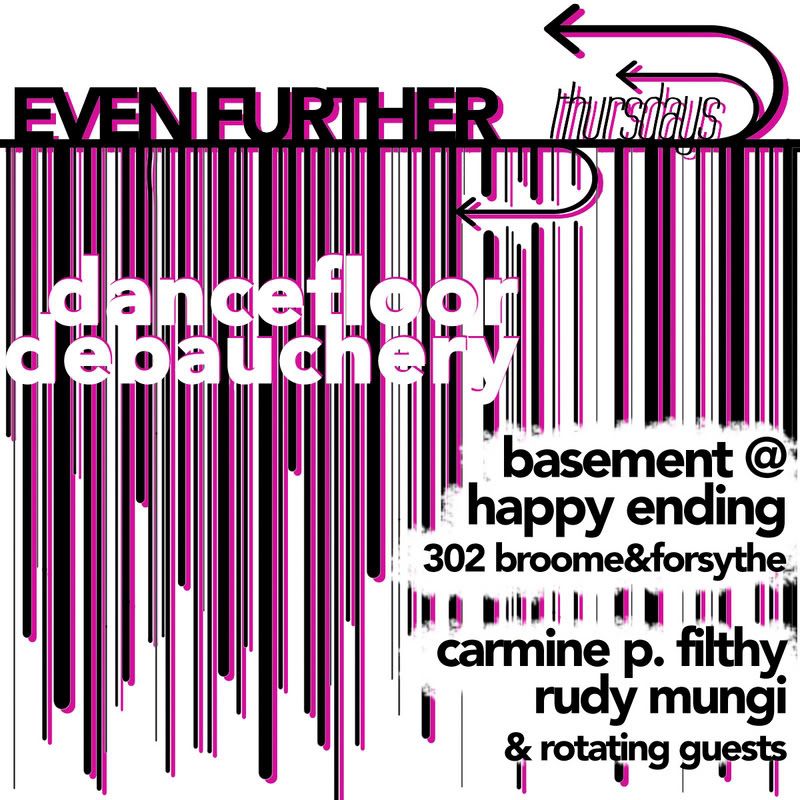 -One of New York's finest has decided to begin his campaign to conquer the West, as my bol
DJ Dimitry
hits up San Diego tonight. Oh and what a way to kick it off, Djing the Tokyo Police Club show at The Beauty Bar (4746 El Cajon Blvd), $10, brought to you by Gabe Vega, it goes from 10-2, although I don't know if that includes the band's time. Anyway, San Diego, we have sent you one of our finest, treat him well.
-G-d I love you Philly. You're the only city that continues to floor me with the craziness and dirtiness of your parties, loft shit, warehouses, the underground actually exists here. Tonight's a good example with this new-to-me Club Lyfestile. They're throwing down a dance party tonight called Adventure Island, or the place is called Adventure Island, whatever. It's happening at 3217 Collins St., DJs Heavy Flow and Wytear are joined by the heavyweight champ of dance JHN RDN. This
-Chicago joins up with Minneapolis, the
Dark Wave Disco
crew -
Trancid, Mark Gertz and Greg Corner
- with
Soviet Panda of MNPS' Too Much Love
. Like whoa. Too many of my favorites in one room, this will be complete dance-y mayhem. It's the Kill Hannah afterparty, which doesn't mean a lot to me as I've never heard them. But, they must be dope if this is the celebration for their show. It happens at
Debonair Social Club
(1575 N. Milwaukee Ave.) and amazingly there's no cover. That's right, you can hear some of the best DJs around for FREE. The Midwest is beginning to form bonds, the coasts better recognize.
-Finally, in my attempt to not be so flier-centric, that kid
Will Eastman
is spinning at
Cafe Saint Ex in their basement club called Gate 54
. The place has an aviation theme. Enough said. Actually, I should say more. Will is one of D.C.'s best and he's gonna be playing nothing but heat tonight. Head out, drink, dance, forget that you live in the same city as Alberto Gonzalez.