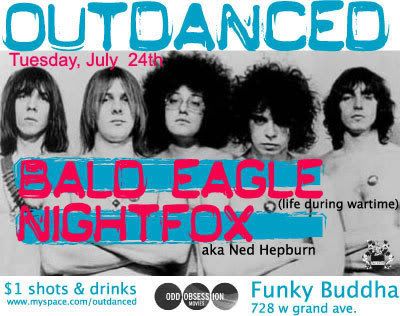 Chicago, this ain't just a party, this is a challenge. Outdanced? Well, will you be? Or are you going to show up to the Funky Buddha (728 W. Grand Ave.) and prove that you've got what it takes on the dancefloor. My dude Bald Eagle, who'll be receiving an email from me shortly, and Nightfox will make your task easier by spinning the best dance music from today and yesterday. Oh and the $1 shots and drinks should make things even easier (and possibly a little blurry tommorrow). You can do it, you just need to believe in yourself.
-Hmm, here's a new party for me, Six Six Sick. Micprobes is the resident DJ, bringing you this weekly at Happy Ending (302 Broome St.) with Jon Pierce. This is not a slight to the party, but rather a testament to the fact that I am easily intimidated and sadly ignorant of parties featuring beautiful, hip, fashionable people doing debaucherous things. Tonight looks like a good night to see what's up, as they host the video premier party for Gravy Train's "Club Situation." Hosts 66S Girls - Christina, Tiffany and Feng Feng - are in the video, which you can mention to them when you are wasted late in the night. You also get guest DJ sets from Mr. Pharmacist, a.k.a. Gregg Foreman, and White Dove's June D, handbag giveaways, pictures by thenightlight.net and most importantly a chance to be young, beautiful and fashionable.
-I mentioned this new weekly Bad Music For Bad People last week and this week they take it up another notch. He Said/She Said and Joe Licht are joined by seclusias boss and one of Philly's best DJs, dev79, at Upstairs at Sal's. Expect lots of heavy bass tunes from dubstep and grime to rap and reggae. Take note of this party now, seriously.
-San Fran, it's your turn this week, as the Daft Punk light shines on you this Friday. Get it in the right mindset with Hold Yr Horses, the second and fourth Tuesday party at Aunt Charlie's (133 Turk@Taylor). DJ Rchrd Oh?! of bigstereo.net brings in the perfect dude to get SF ready, DJ Sleazemore, who will undoubtedly kill it. $3, 10-2, c'mon San Fran, get ready!
-LA, now's no time to quit. Like party sharks, you must not sleep after the Daft Punk weekedn or you will perish. Hit up Seven Sins tonight at newish spot Seven (7929 Santa Monica Blvd) where resident DJ Josh(ua) will throw chum (dance-y music) onto the dancefloor. Helping him out tonight will be Mark Roble, Nico the Ego and Maria Holland, with photos by shadowscene. It's free, 21+, time to cue the
Jaws
music.