It's Friday, it's time to get serious people. I'm not even gonna try to be all cute here, let's just down to business. I love when some of my favorite awesome DJs join together to be even awesomer. The awesome is going to be overwhelming tonight in Williamsburg, as the Finger On The Pulse bols - DJ Never Forget and DJ Terry Diabolik - have invited Philly crew Broadzilla to be their special guest at their bi-weekly party tonight. Mang, Philly + Williamsburg + cheap drinks + dancing = Chapters 1-7 of my autobiography. This one's gonna be so rad, an oasis from the Bedford Ave weekend invasion. Get to the Charleston (N. 7th and Bedford), in the basement, free, 21+. So much coming up for the FOTP dudes, we'll let you know about it all when the time's right. Big things, big things.
-Or make it a Manhattan night and catch my girl Lauren Flax's bi-weekly party Secrets at 200 Orchard. I caught the beginning of it last time and by 11 it was as crowded as the Modular parties were at peak hour. In other words, this one's started off with a bang. Lauren's brought in more guests this week, including a live set by Passions and a DJ set by Star Eyes of Trouble&Bass and Kitsune fame. Great line-up, drink specials from 11-12, one of the best dance music parties in the city, a sick venue with a huge dancefloor and stage and everything, what more do you need?!?
-Mang, it's been way to long since I mentioned the
Lewd
bols -
RekLES and SeanMuthafukkinRoberts
- but I'm happy to correct that tonight. They're gonna be holding it down at The Skinny (174 Orchard St.) every second and fourth Friday, which means twice a month you are guaranteed filth, raunch and the music you play to accompany that. Can I also just say that this is the best flier I've seen in forever? Literally, this is the flier I'd use for my imaginary party, whoever made this please take a bow or get in touch. $3 well drinks from 11-12, no cover, so you'll have money to really take advantage of that.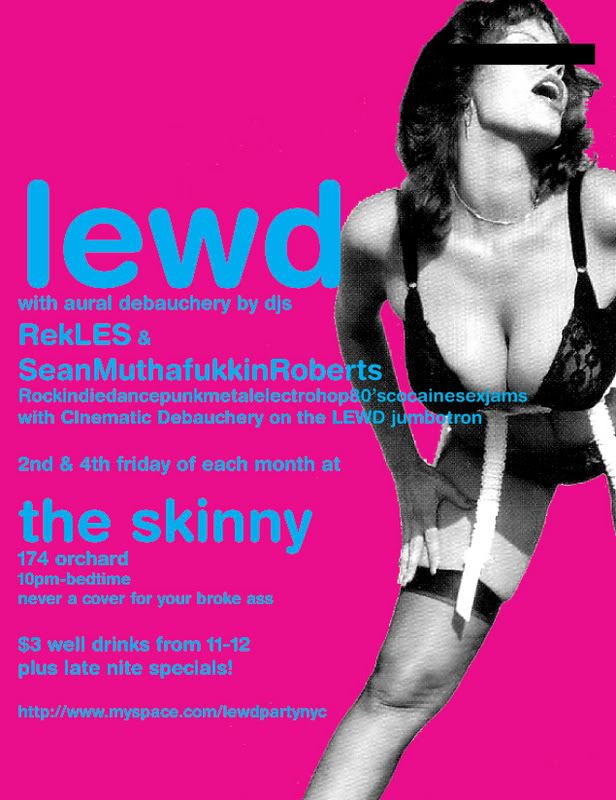 -One last one in the LES, Seventeen is the new party put on by the Ruff Kids at a new spot Revolver (210 Rivington btwn Pitt&Ridge). You know that this one will be filled with youngsters in the prime of their sexual and drinking lives acting young and carefree. The music is spun by DJs Erick Hart of the Morphine Generation and Mr. Pharmacist, a.k.a. Gregg Foreman.
RSVP at going.com
and take advantage of the 11-12 open bar, I mean this is sponsored by myopenbar.com, so they kinda have to have one, right?

-More Debonair Social Club happenings, as tonight the fourth Friday party jumps off with DJs Ryan Paradise and Heather Doble, hosted by Jillian Valentino and Scott Cramer. RSVP at outdanced@yahoo.com or say "Teen Spirit" at the door for free entry. Oh, did I mention free pizza until 11? Yeah, there is. Remember to wait a half hour after you eat to get on the dancefloor.
-This looks to be one of the bigger editions of Lights Down Low, one of San Fran's best parties. Curtis Vodka and Flufftronix are the guests, expect no rules as any and all genres will be covered. I'd be happy just to have a night featuring the regulars, Sleazemore, White Girl Lust and Rchrd Oh?! but who's complaining? It all happens at the 222 Club (222 Hyde and Turk), I mean San Fran is really stepping its game up and this party is a big reason.
-Things are quiter tonight in LA, but not dead as Club 82 does its thing with special live performance by IMA Robot. In addition, the regular assortment of DJs are on hand to make you dance, Keith 2.0, LA Riots (more to come on them) DJ Paul & DJ Raulie. It happens at Avalon Hollywood (1735 Vine St.), tickets are $10 before 12 at the door, $15 after 12, 19+, should be a great night for all things indie.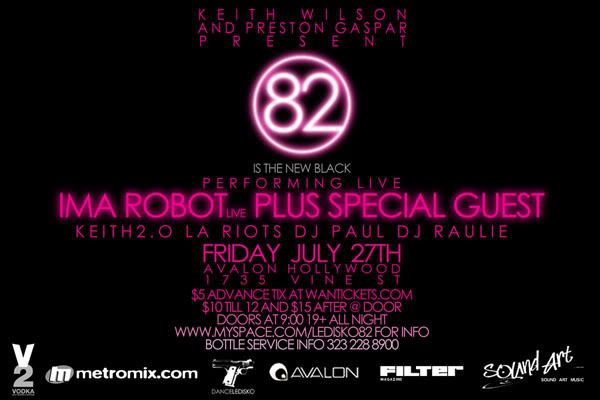 -Finally, one of the best Philly parties does it again as [click.] takes over Fluid (613 S. 4th St.). This one should be a monster, as Dave P is joined by Pink Skull on the decks for a night of the sickest dance music. As Dave says, "It's like Ibiza in there!" It sure is, Philly, now get there and feel the aceeeedddddd! Oh, and I have no idea what the zebra does at the party, you'll have to show up to find out.