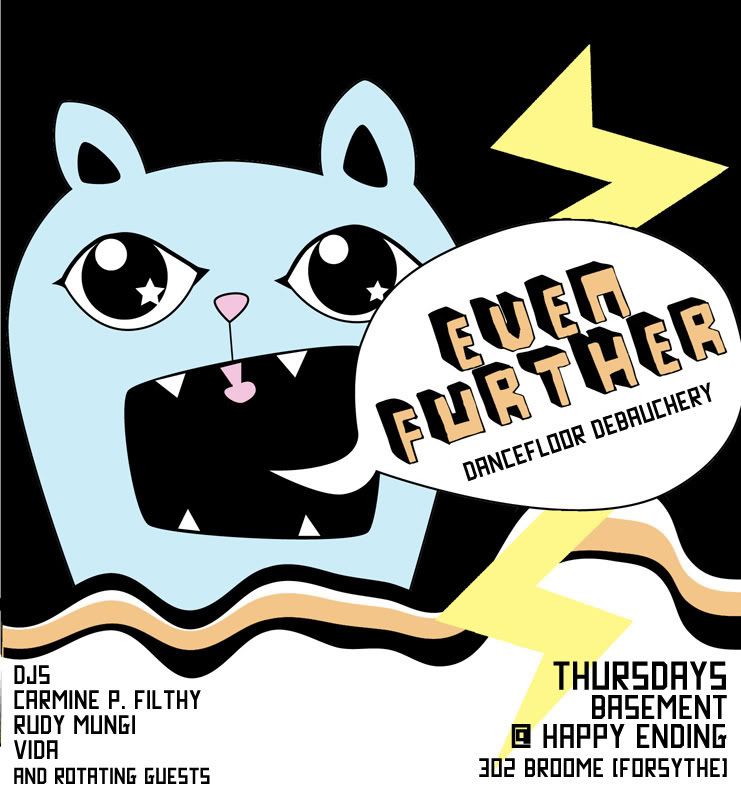 New York City takes it tonight, as two of my favorite parties link up.
Even Further
is the filthy weekly at Happy Ending (302 Broome@Forsythe) in Chinatown that
DJs Carmine P. Filthy, Rudy Mungi and Vida
put on to remind NYC that it's okay to dance. You know, that it's cool to move your feet and not worry for a second about getting one of the ten white guys with cameras to snap your photo. Well, if you haven't been to this one yet, tonight's the night.
Pound for Pound
favorite
DJ Never Forget of Finger On The Pulse
fame is the special guest. That means, this one's serious. Dancing is mandatory, kissing and dry humping optional. C'mon New York City, this should be a mandatory part of your week. Yeah!
-Also, make sure to check out the dopeness going down at APT. Yeah, yeah I know, it's in the Meatpacking District, it's nauseting to see Jersey people and Jersey people who now live in the city until they meet their future spouse, but that's the key. It's like this secret, downstairs lair where great dance music goes down and cool crowds get down. Tonight, it's Ride On Time, which I think is a new monthly (correct me if I'm wrong) with residents Eamon Harkin of FUN and Jacques Renault of Runaway. Tonight, they're joined by indie dance maven James F!*%ing Friedman for a guaranteed great party. If you've never checked out APT, this is a great chance to get over your fear of 14th Street and have a blast. Oh and you may see famous bloggers there, just FYI.
-Make sure to stop by Hiro Ballroom (317 W. 16th St. @ 9th Ave.)for the usual Thursday night madness there courtesy of Cheeky Bastard, GBH, Dimitry, Alex English, et al. Tonight, you get a live set by the Mobius Band, DJ sets by J.D. Samson of Le Tigre and Sune of The Raveonettes.
RSVP the guest list
and get in for free, drink specials from 10-11, I'm not telling you anything you didn't already know.
-Finally, you know I got shout out a party in Williamsburg, especially when it features the Hot Hens (Miss MK and Ju$t Je$i) and Cousin Cole. It's called the Flew The Coop Refresher and sounds like it's a preview of a future regular gig. It's happening at Savalas (285 Bedford Ave), there's no cover and there is cheap margaritas available. That's all I'm saying.
-I can't say that there's much that makes me want to live in Washington D.C. Honestly, besides maybe Russ Feingold, Will Eastman is the only person who gives me good thoughts about the place. If Will keeps dropping parties like Discotheque ("A Night of Disco, Classics and House)," I may have to change my tune and move there. Will's joined by Chris Burns of Disco City for this one, it all happens at Napoleon Bistro (1847 Columbia Rd. NW) starting at 10. This one's every first and third Thursday of the month, thank these guys for making D.C. twice as cool.
-Lots of good stuff going down in Chicago this weekend as usual, so get it started right with the Dark Wave Disco bols - Trancid, Mark Gertz and Greg Corner - for their Thursday night weekly jumpoff at Debonair (1575 N. Milwaukee Ave). No cover, good people, great DJs, the choice is pretty simple.
-The M Room was most famous as the site of Hands and Knees, but it looks like the place is starting to make moves. It's great to see, as it's a great spot and the city can always use another place to let the kids dance. Tonight, you get to hear two bands and DJs for $5, a good deal any way you look at it. The bands are The Model and Last Year's Model (I love a theme!) and the DJs are The Strawberry Mansion
-Okay, LA, we all know what's going down this weekend. It's the biggest weekend to hit your city since . Daft fucking Punk is playing Saturday! Okay, take a deep breath, compose yourself and realize that this is the summer, this weekend can define it. Start things off with a dope party in Long Beach at The House Lounge (3626 Fruitland Ave), as Mark Rodriguez celebrates his b-day by bringing in the devastating dance duo of Le Castle Vania and Lazaro Casanova. I can feel the 808s from here, yum. Night 1 of the greatest weekend ever!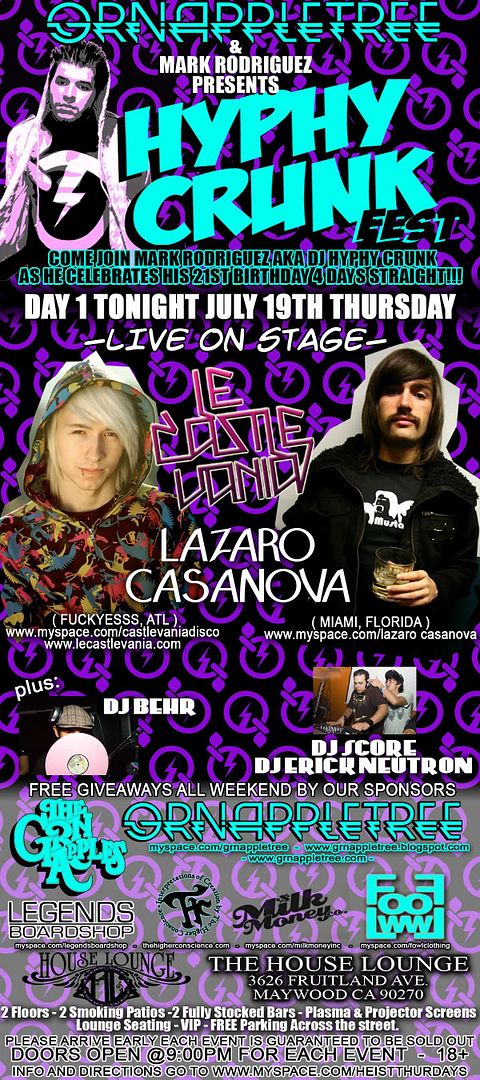 -Or stay in LA proper for Swerve, where my bol Daniel Le Disko will put you in the proper mindset for the weekend. Swerve is his weekly party at Scorpion (6679 Hollywood Blvd), expect the best dance music and a great night. Just make sure to pace yourself, it's a long weekend ahead Los Angelenos.