Soundmurderer, "Big Time (core mix)"
(
YSI link
)

Soundmurderer, "Stick Up (quick mix)"
(
YSI link
)
Let's keep going with this focus on the more roughneck, sonic assault kinda shit. Basically, it's an excuse to post up some of the jungle/breakcore stuff I've been dying to post since I started this blog. It's funny considering the stuff I post up on the regular, but jungle was the first electronic music that I really got into. It's not that hard to believe when you consider its roots in dancehall and rave. Next week, I think we'll focus on some of the classics that were going down in the early 1990s.
This week, we're going to look at a few of the people still keeping the jungle spirit and sound alive. There's no one doing that better than
Soundmurderer
, a.k.a.
Todd Osborn
. Osborn ran the legendary drum'n'bass store Dubplate Pressure in Ann Arbor, Michigan. For the last 5 years or so, he's been releasing music as Soundmurderer slowly buyt surely. Most of it has been done with partner SK-1, but for this post, I've put up one of his few (is it the only one?) solo releases. It's a split EP with Enduser called
Revolution
. Man, this shit sounds so good. It's not dance music (at least to me), but I love this sound - the chopped-up breaks, the Scarface and dancehall samples, the brutality of it all. It reminds me a lot of the impression and feeling grime gave me when I first came to it in 2003 or whenever. There's a real dystopic element that stands in contrast to most other electronic musics. And I like that.
-So many great events tonight, presumably in reaction to my foul mood. Thanks everyone for trying to cheer me up! I'd be pretty hard pressed to not amke this the event of the night, as pretty much any Soulwax Nite Versions appearance is the place to be. They are playing tonight at Studio B in Greenpoint, in a Todd P and Fixed co-production. There's also going to be a 2 Many DJs set, along with Dave P and JDH doing their thing. I'll be in the house, being happy.
-If you still don't know, I don't know to tell you anymore. High Voltage = one of NYC's best parties. My bol Dimitry is joined by Zachary Michael and Stephen from Kids With Snakes in the DJ booth, Zygo open bar starts at 11, just do this people.
-Not too far away is the Ratatat afterparty at Manor (73 8th Avenue), which is a pretty jampacked event with all of your favorite NYC party stars. There's The Misshapers, the Ruff kids, Sophia Lamar and others, plus lots of people who didn't get into the Misshapes party earlier.
-Another great Philly party, Hurrah, steps its game up big time with a special guest spot by DJ Adam Sparkle of Making Time fame. He'll join regulars Stereo Faith, Shawn Ryan and Chris Rogy at Upstairs at Sal's. Amazing drink deals, get there before 11 and you're guaranteed drunk for 5 bucks. That's how you do it!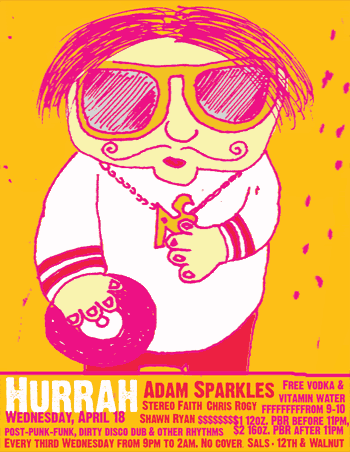 -Hopping over to the Midwest, the Windy City might collapse under the weight of all the coolness and hype at Fool's Gold. DJ sets by Flosstradamus and Nick Catchdubs, live performances by Kid Sister and The Cool Kids, all for $5! It's happening at Subterranean (2011 W. North Ave.), love the flier.
-I was tempted to put this as the event of the night, but I kinda got into the east to midwest to west progression. I'm an organization nerd, what can I say? Two words for this one: The Faint! That's right, everyone's favorite band is spinning a guest set at Club Moscow tonight. It's Club 82 Calling All DJs, which means you also get your boys Paparazzi, Daniel from Le Disko, Keith 2.0, along with Black Light Odyssey, Ryan Reber, Sean Patrick and more in two rooms. This event makes me jealous.
-Finally, we head up to San Fransisco for the weekly Bounce