DJ Godfather, "Sweet Potato Pie"
(
YSI link
)
DJ Godfather, "Let Me C U Pop"
(
YSI link
)

DJ Godfather, "Hoes Get Naked"
(
YSI link
)
It's been a minute since I threw up any booty music and for that I sincerely apologize. No real excuse, just haven't been playing a lot of it and didn't want to force a post. Fortunately for us all, I've been back in the swing of things, thanks to some old ghettotech mixes that are on the iPod.
No better place to jump back in then with DJ Assault's output at the start of the millenium, 2001. That was the year that ghettotech enjoyed its moment in the sun, follwing in the wake of the Mo Wax album, Belle Isle Tech. Assault re-released "Ass and Titties", got love from other labels and got some magazine cover action. The Hoes Get Naked EP dropped on Databass, the legendary bass label. It's a solid one, especially love the title track, which is slightly more minimal sounding and less brutal than normal, with this sick warbly bass sound that makes me mosh or something.
I want to dedicate this post to my favorite Michiganer, JH-B. Hyphens are the new black, fyi. The funniest part of the dedication is that she will probably punch me in the face at putting up these songs, but hopefully seeing her name in the Pound for Pound lights will overwhelm her feminist sensibility. Ann Arbor stand the fuck up! Rotary clubbers stand up!
-It's a big night in NYC and we're gonna start off with my new favorite party. Lewd is that weekly jumpoff at The Annex, where resident DJs rekLES and seanmuthafukkinroberts bring you all of that good indie dance heat rock that makes life worth living. Tonight's also the afterparty for Robbers On High Street, as the band will be spinning after their show. For real, this is one of those guaranteed good times and a reminder of what the Lower East Side can still be.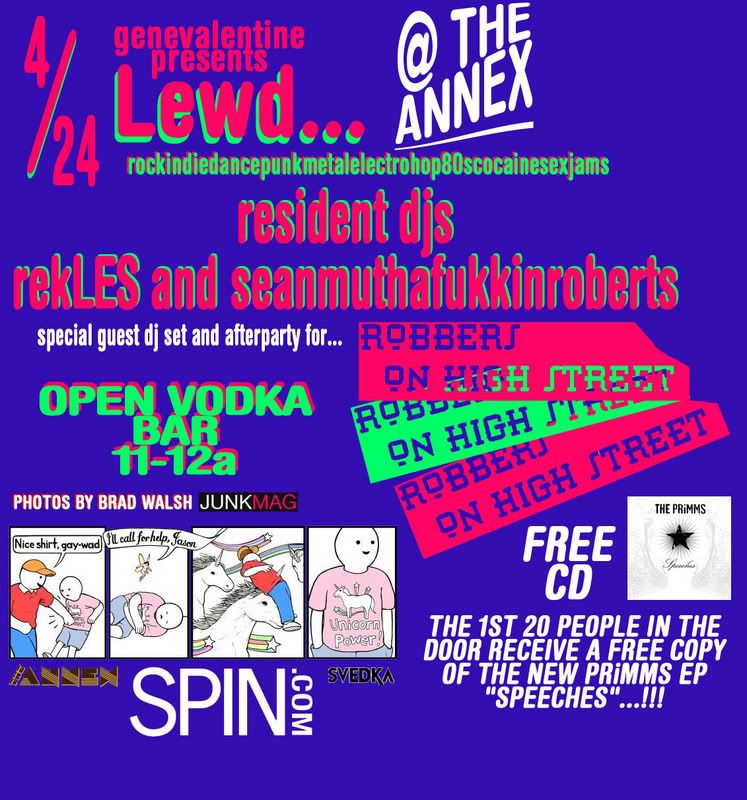 -Then, take the short walk over to Happy Ending (302 Broome St.) for
Six Six Sick
, Micprobes and Japanster's party. One of the world's best DJs, Lauren Flax, is a special guest, so here's the perfect time to get up on this one. Dances With White Girls is also spinning, not much more needs to be said.
-Before you get back on the L, head to Lotus (409 W. 14th St.) for another Project Matt jawn, "Don't Sweat The Technique." King Solomon and DJ Soul are on the wheels of steel, lots of reggae and rap bangers from the golden early 90s era. Happy birthday to Vashtie, who I don't know, but look at her kiddie pic on the flier and tell me that adorableness doesn't deserve a birthday greeting.
-Chicago, peep this flier and you'll know that there is no other place you can be tonight. Outdanced does its thing at the Funky Buddha (728 W. Grand) tonight, as Mother Hubbard and Bald Eagle will spin music so good Robert Smith would be grindin' on the dancefloor. Life During Outtime are also there, hopefully somebody will play "Fire In Cairo."
-
See You Next Tuesday
celebrates its 1 year anniversary tonight in Washington D.C. at the Wonderland Ballroom (11th and Kenton NW). DJs People's Champion, Promnight and Ikon don't just have some of the best DJ names, they also play great music and make you dance and happy. As an aside, the fact that I didn't post about their Pesach party is one of the three greatest regrets of my life. Message me for the other two. Sorry boys, I'm all over the High Holidays rave, promise!
-Finally, it's Tuesday, therefore it's
Check Yo Ponytail
night. This one is a super good one in my eyes, as there's a performance by one of my favorite bands, Erase Errata! But, no Mr. Franki Chan isn't satisfied with just that radness. He's also brought in the amazing Adult and Brooklyn's Parts & Labour to play live. That's along with the regular DJ sets by Franki and Paparazzi and photos by Shadowscene. It's at Safari Sam's (5214 Sunset Blvd), you know what to do.