Klaxons, "Gravity's Rainbow (Soulwax remix)"
(
YSI link
)
Klaxons, "Atlantis to Interzone (Dave P and Adam Sparkle's Festival Remix Extended Break)"
(
YSI link
)
-This Making Time is the event of the year. I really thought about making it the only flier for the night, but then I realized that not everyone is fortunate enough to live in Philadelphia. Take a look at the details - a live set by Soulwax motherfucking Nite Versions, 2 Many DJs!, first Klaxons Philly appearance, Surkin in the basement spinning with Adam Sparkles, JDH and Julian S. Process, Bonde do Role live, Dave P in the main room, open bar from 9-11 with PBR and Sparks. Whew. Best of all, it rages til 6 AM. Philly, get to Transit (6th and Spring Garden) tonight and freak out like crazy people.
-More Tiny Pants for you NYC kids. Our boy is back where he belongs, on the Brooklyn side of things, spinning at Royal Oak (594 Union Ave). It's Hi-Tops and Hearts Part 4, so you know need to go to see how all the cliffhangers from Part 3 turn out.
-It's Saturday night New York, you know where to be.
Saturdazed at Home Sweet Home with Project Matt
. Tonight, he's joined by Dirty Finger for dirty tunes and dirty thoughts. One of my favorite parties in the whole world, get behind it.
-Lots going on on the opposite side of the country.
Blow Up LA/Anne Lee
and The Fold have brought the UK's Trash Fashion in for a live set. I love these guys, check them out tonight before I do a post on them. You also get a live set from 8 bit. Denny Le Nimh from Ruff Club in NYC is the guest DJ, joining residents Dirty Dave and Denver Dally at Scene Bar (806 E. Colorado) in Glendale (wait, is that a neighborhood in LA?).
-Tik Tok is holding down LA proper with a pretty massive show in its own right. Here's your chance to check out A Touch of Class, doing the Cali thing this weekend. There's also Acid Girls, Black Disco and like 10 other DJs in three rooms. It's going down at 613 Imperial St. in downtown LA, sorry don't know the venue name. It's brought to you by Stephen Hauptfuhr, Goddollars and Aaron Castle, thank them for a great night.
-There's also a cool event going down at The Echoplex (1154 Glendale Blvd.) Dragstrip 66 present Fugly Betty, a whole night devoted to the ABC show. Dress up in your fugliest shit and get your drag on. Best of all, DJ Paul V. provides the tunes all night, so expect the best music to offset your ugly clothes.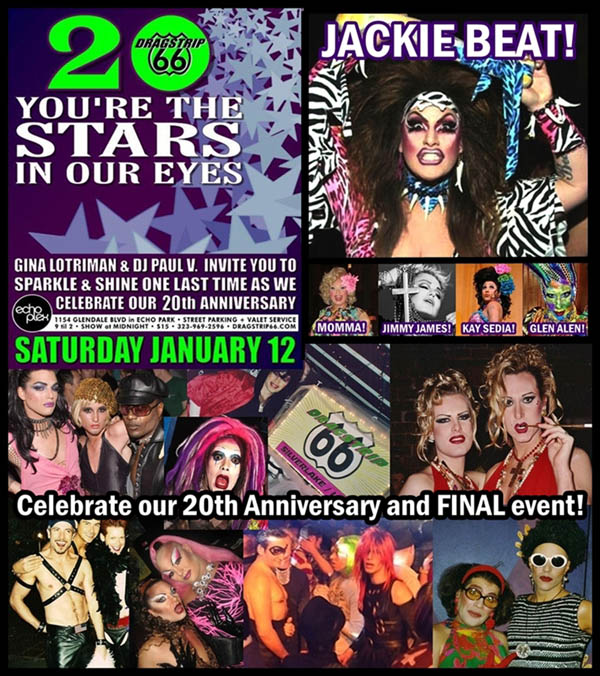 -More fashion and music in San Jose, as the Vicctim Danse Party meets the Black and Brown Fashion Show at The Blank Club (44 S. Almaden). Runway show at 11:30, music by Basura, Nate Nothing and Disaster.
-Holy shit, one of the hottest fliers ever for this month's Wall Street at The Arrow Bar (6th and Market). San Fran's finest White Girl Lust are spinning along with Audrock and Heiko. The Murder Lillies are playing live, don't know what else you need Bay Area-ers.
-Finally, Chicago continues to impress