Cajuan, "Raven (Cajuan's Moog Rave mix)"
(
YSI link
)
Cajuan, "Raven (Joakim's Antwerp rework)"
(
YSI link
)
Oh boy, here's a big one. One of the best songs so far of late 2006/early 2007,
Cajuan's "Raven"
is a must-have track. I've put up the Moog Rave mix from the man himself, a simply beautiful tune. Cajuan uses a gorgeous melody that's got enough bass to appease the dancefloor. There's a few organ breaks that change the tempo up; this one is not a rager by any means - even when the drums and bass kick back in, it's under control. I really like it, although rave mix is probably not the best label.
Ahh, Joakim, he does little wrong in my book. This is no exception, as I really like this rework. Again, it's not a rager, it's just a nice stretched out dance track. Listen to this one on headphones to appreciate all the little subtle shifts , how the pieces come together. I hate to use the word beautiful again, but there's just something so calming and shimmering about the sounds here. It's not that filthy stuff, it's seems much more in line with a great disco tune. Highly recommended.
-Sorry US cities, but London takes it tonight with an Easter Rave at Scala (276 Pentonville Road). Take a look at that lineup, it'll give you a boner or a funny feeling in your female parts. The Presets headline, Metronomy, South Central, The Teenagers, Kissy Sell Out, so many Pound for Pound favs it's overwhelming. Advance tickets are gone, but they will have a limited number at the door. Get there early, do not miss this.
-Brooklyn, it's a Soundclash tonight! Iron Lyon Presents Soundclash tonight at Supreme Trading (213 N. 8th) in Williamsburg. He's joined by my bol Project Matt and DJ Complex for lots of dubplates and toasting. Actually, I'm not even totally sure I know what that means; all I know is that this will be a good time with great great great DJs.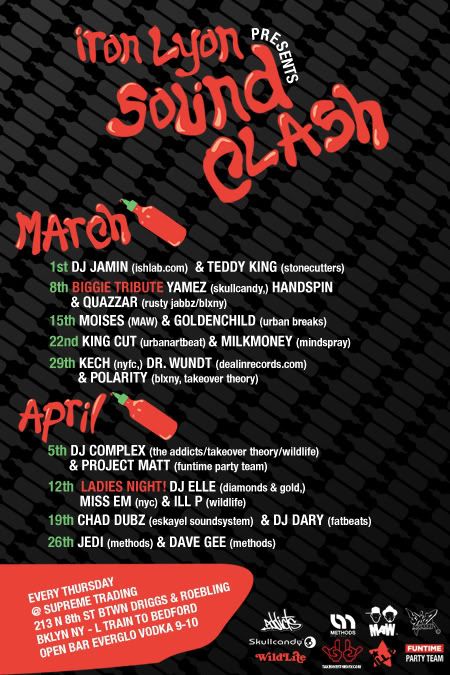 -As always Thursday night at Hiro Ballroom (317 W. 16th at 9th Ave) is an essential stop in New York City. There's a special performance by Patrick Wolf, but the real treat for the real heads is a DJ set by Does It Offend You, Yeah? from the UK. Cheeky Bastard keeps on doing it, for real.
-Broadzilla follows up the Diplo/Bonde/Plastic Little madness with guest Steven Bloodbath tonight. You know the deal, Upstairs at Sal's, free, dress in your nicest jeans and sneakers, go crazy.
-
The Tactic boys
are doing a 4 turntable set at
the Neon party
at The Bottleneck (737 New Hampshire) in Lawrence, Kansas. Midwest, this is the place to be.
-Finally, out west in San Francisco, White Girl Lust is a part of the