Feist, "My Moon, My Man (Boys Noize remix)"
(
YSI link
)
Feist, "Sea Lion (Chromeo remix)"
(
YSI link
)
It's been a crappy, rainy day here in NYC. What makes
Pound for Pound
happy more than anything? Beautiful brunettes. Since this is a mp3 blog and not jdate, I figured that I'd discuss the new remixes dropping of the new
Feist
singles.
Leslie Feist
is known by everyone I'm sure, both from her solo work and stuff with the
Broken Social Scene
. It's a sign of how many talented female artists there are right now that Feist hasn't gotten more attention here.
Here's two new remixes of her songs, in anticipation of her new LP. These names should be familiar to anyone who reads this blog or cares about good music. Boys Noize is one of the most talented people working in music today, seeing his name on a slab of vinyl is like the Good Housekeeping seal. This is an interesting one, as it eschews his normal raging, acid-y house sound for a much more relaxed, subdued track. He really lets Feist shine and shine she does. When she starts singing the lyrics (about 1:40 in), her voice sounds so beautiful and clean it's overwhelming. This is not going to be dancefloor banger, but it still works. I love the more relaxed pace, the beautiful synth washes and the vocodored voice speaking the title. The Chromeo remix sounds exactly what you expect a Chromeo remix to sound like. They've given Feist a disco funky remake, turning our Canadian woman into a diva. What strikes me most after hearing these two tracks is how flexible Feist is, how easily her voice and songs can be translated to the dancefloor and different genres.
-There's nothing I like more than way some of my favorite people come together to create the ultimate party, Voltron-style. High Voltage tonight is a great example, as Dimitry and Jason have brought in DJ Never Forget from Finger On The Pulse to guest DJ at one of my favorite NYC parties. Yeah! Beyond that, there's a special performace by Spankrock DJ XXXchange,
-Here's a new party for me - Wasteland at Fat Baby's (112 Rivington). It's brought to you by Thunderkunt! and is jampacked with good DJs. I mean, peep the flier - Pound for Pound all-time fave Lauren Flax, Sean Pierce from Theo & the Skyscrapers, Dances With White Girls, Lauren Chillhard from Dreamburger, Alex Malfunction and Twig the Wonderkid from Trash! and a ton more people. How often are you really going to be able to go to Fat Baby's again without being with crushed by B+Ters? For chrissakes, they advertise the fact that they play industrial music. Support that.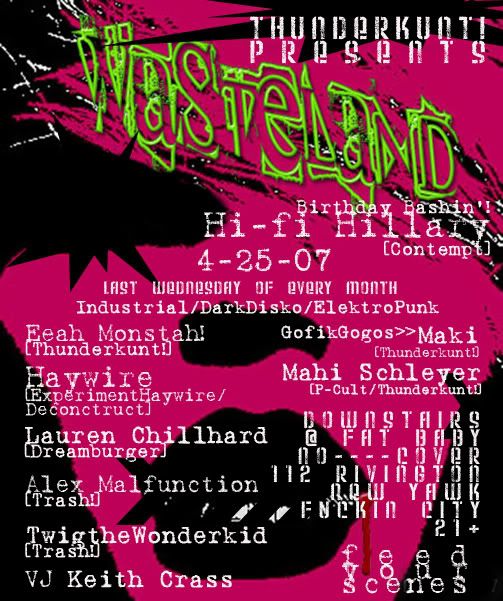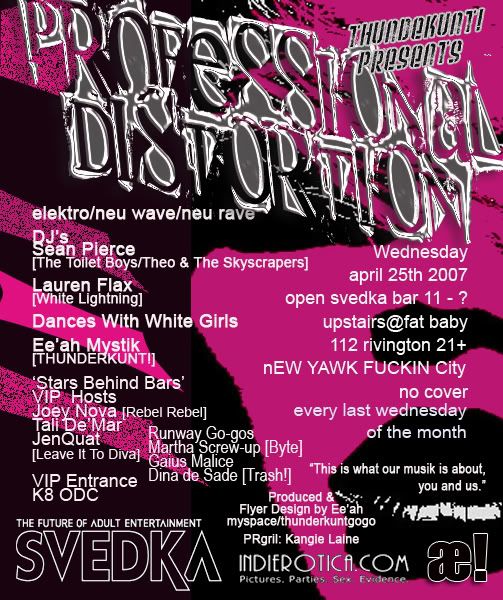 -Be awesome tonight, as Awesometown is upon us. Anne Lee and Dirty Dave have put together a real nice one tonight with guest spots from Alex Ebert from Imarobot, Paparazzi, Jesse Frankel and Dirty Dave himself. Get to The Short Stop (1455 W. Sunset Blvd) in Echo Park, every second and fourth Wednesday. Awesome!
-LA, also make sure to hit up Club Moscow tonight, as this is a must every week. Raulie, Keith 2.0 and Paul are joined by DJ Nobody tonight and a plethora of bands - Shapes of Racecars, Audrye Sessions and The Muhollands. It's at Boardners (1652 N. Cherokee), it's free til 10:30, so maybe hit this one first then head over to Awesometown. But, you do you, don't let me tell you how to make this a night.