There were two clear favorites tonight, as noted in the title. But I had to give this Radioclit party headline status because I never hear anything going on Texas. So, how could I possibly pass up the chance to mention one of my favorite DJ/producer teams, Radioclit, as they hit the Lone Star State for two nights this weekend. Tonight, they're in Austin, the city every one says they're going to move to, at Beauty Bar (617 E. 7th St.). They're joined by Prince Klassen, DJ Digg and DJ Nerdy Harry of TMC on the first stop of the Scion and Imeem.com B.E.A.T., which rolls into Dallas tomorrow night before heading West. Except the unexpected, as Radioclit specialize in fucking with the music and your expectations.
-Oooh boy, Modular has put together its best NYC monthly yet, bringing in Baltimore club legend Scottie B (Unruly Records) to destroy the LES. Matt Safer of The Rapture and the Captain of Cut fame are also there, so you need to be too. Get to The Orchard Bar (200 Orchard St.), say hi if you see me.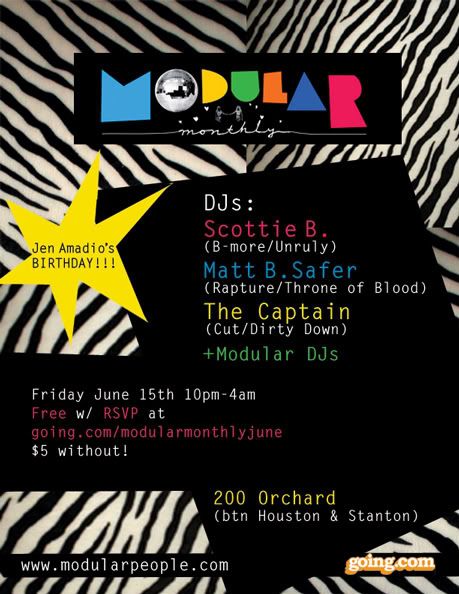 -You can stumble to or from that party to the Ruff Club at The Annex (152 Orchard St.) You don't need me to tell you about Denny Le Nimh and crew's party, but I did want to give a special mention as that dude Nick Hook from Men, Women and Children is spinning tonight. Also, Kim Ann Foxmann and a ton of other people are also doing it, Spencer Product and The Hot Pink do it every Friday. Free Svedka from 10 'til it's gone.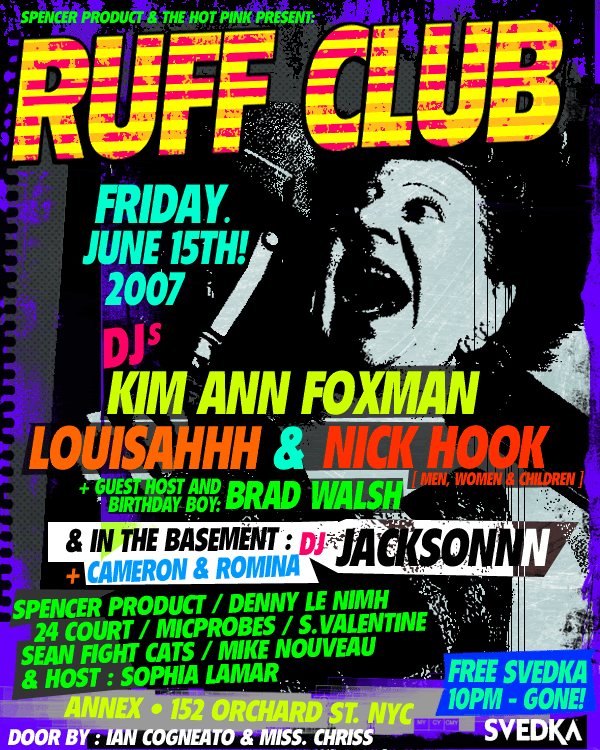 -Then, stumble a little bit north and east to Element for People Don't Dance More, my bol David Bruno and Robot Blair's monthly dance party. For real, this is one of the best parties in the city, consistently the best talent comes through here. Tonight's edition is in the basement of Element, I had no idea there was one, assume it may look like the basment of the Alamo. Anyway, tonight's special guest is Andy Butler of Hercules & Love Affair and DFA, $5 advance tickets, $10 at the door. Essential stop on your downtown night.
-Also make sure to hit up the Stolen Transmission party tonight at Angels and Kings (500 E. 11th St. btwn A and B) on your way to or from the L where my bol DJ Dimitry is spinning all night. He's one of my favorite DJs, he's the newest addition to the blog roll, he's rad. There's also like 213 people celebrating their birthdays, so you might be able to get some cake or a drunken hook-up out of the deal.
-The Dark Wave Disco bols have a new Chicago residency, as they'll be taking over the Debonair Social Club (1575 N. Milwaukee Ave.) every third Friday from here on out. 'Teen Spirit" is the password for free entry, or rsvp to outdanced@yahoo.com. $5 Svedka cocktails all night, Chicago where ya at?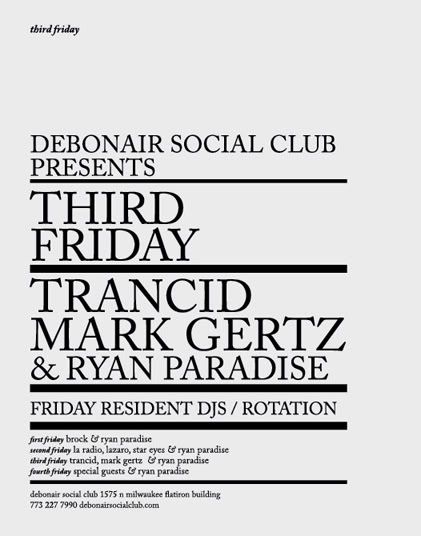 -I'm really into this party in LA tonight, both because it's got a lot of new names to my ears and there's two crews "battling," a theme I can't get enough of. Hush Hush crew - Young Americans, Royal Rumble and DJ Adorable - take on the Rockognized crew - DJ Damager and J Mendez - for LA hipster supremacy. Oh, and The Nightfox from Chicago is guest DJ, I assume as a neutral entity like Switzerland. It goes down at the Rockognized HQ (651 S. Anderson) and it sounds like this is impossible to find, so mapquest it and make sure you know what's up. Get there early as they will cut off once they hit capacity, get cash beforehand as they don't take credit, and have fun. Yeah!
-A big night in San Francisco. Blow Up is going down with special guest from NYC, White Dove June D. She'll join the legendary DJ team of Jefrodisiac and Richie Panic, the Martin and Lewis of dirty dance music. Hot Tub plays live, Bertie P and Jelly Donut also spin a dual set, White Stripes record release party, $8 before 11, $10 the rest of the night. It's at the Rickshaw Stop (155 Fell), presented by Jefrodisiac and Emily Betty.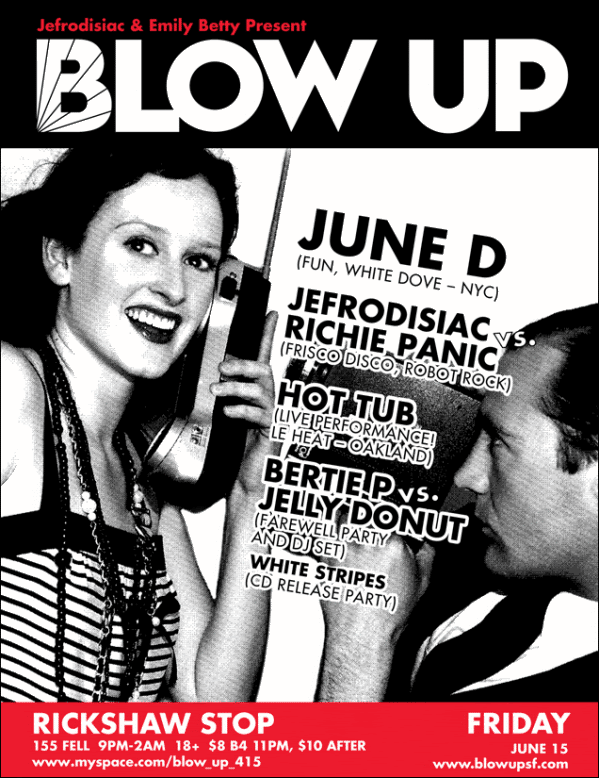 -Finally, what could easily have been the event of the night, Juan MacLean does San Fran. The DFA dude is the special guest for Pop, the monthly party at RX Gallery (132 Eddy @ Mason). He's joined by one of SF's finest, DJ Sleazemore, and Pop resident, Broker/Dealer. This is going to be madness, I figure, get your advanced tickets here to guarantee you don't miss out.