Ooh mang, pretty damn good Wednesday night going down. I feel like this is the real night to go out, midweek, hump day, no douchebags (for the most part), tons of great weeklies everywhere. My bol Franki Chan just keeps on doing it, tonight with the Hot Chip after-party. I've already jerked the band off, here's a chance for me to do the same for them as DJs. Their DJ Kicks CD proves that these guys know what's up in the booth, as they have great eclectic taste and real skill. Just as cool, you get some of LA's finest supporting them, as Franki, Daniel from Le Disko and Skeet Skeet round out the bill. RSVP to hotchip@iheartcomix.com for free entry, then get to Starshoes (6364 Hollywood Blvd) for the fun. Dewar's and Shadowscene will also be in the building, guaranteeing you a doofy looking drunk picture you can show your friends.
-Or head over to Long Beach to catch the last stop of my SF bols, Sleazemore and Richie Panic, as they hit up Redd tonight. They're joining residents DJs S!n, Luv Tek and Paparazzi, the rising stars of LA. It's happening 140 Vine St., dress up, it's a classy affair.
-It's the second Wednesday of the month, so it's time to head to Awesometown. G-d I love that name for a party, love it! Anyway, Dirty Dave and Anne Lee bring you one of LA's best parties, this time with guest DJs Dan Oh, Tina T and Bip Jeffington. It's at The Short Stop (1455 W. Sunset Blvd) in the Echo Park neighborhood, free, 21+, you know the deal.
-Finally, Club Moscow in LA goes down every Wednesday and tonight is no exception. There's a ton of live music tonight, with bands like The Beautiful and The Dead. There's also guest DJ Kill Hannah and the residents, all at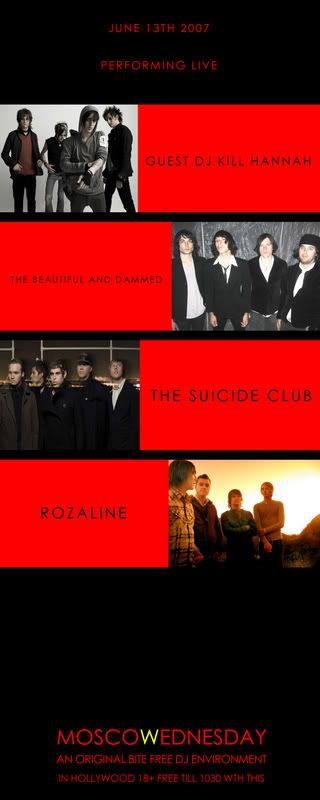 -There's gonna be a Cockfight in NYC tonight. Normally, that phrase would make me uncomfortable, but fortunately I'm referring to a party thrown by Cousin Cole and Pocketknife, the Flagrant Fowl crew. Best of all, you get to hear an opening set by my former roomate, Chris Hires, along with Sammy Bananas from Certified Bananas. It's happening in the basement of Happy Ending and is the perfect stop before or after High Voltage. See ya there!
-I love Chicago. I love Kampfire Killaz. So, rest assured I will love their party tonight, We Love Chicago. If you have similar feelings, get over to Continental (Chicago & California) tonight, where the Killaz are being joined by Heather Doble on the 1s and 2s. It goes 'til 4am