There's nothing I love more than when Philly runs it. Tonight, in the city of Brotherly Love you have possibly my favorite party in the world with some of my favorite DJs, Dave P's Making Time. 7 years running, it just keeps going and going. Tonight at Transit (6th and Spring Garden), you will catch one of the best indie rock bands live, as Voxtrot play around midnightish. I haven't covered them here at Pound for Pound inexplicably, but suffice it to say that these guys would be worth the price of admission. But, you also get the regular assortment of DJs from Dave P, Mike Z and Dave Pak in the main room, the Rock Tits guys upstairs and of course my favorite spot, the basement with Adam Sparkles, JDH and the Broadzillans. For those who like to plan out their drinking in advance, there's free Colt 45 from 9-11, 900 cases of the stuff, so get there early and get your Billy D. on. It's Making Time, people!
-If you're looking for a little more hip-hop in your night or just want to hit up all of the great stuff going on in the 215, head to the M Room in Fishtown to catch two of the best DJ duos join forces for a stellar party. Emynd & Bo Bliz of White Ts and White Belts fame and Caps & Jones are doing the damn thing with lots of hip-hop,
-Philly is also continuing to prove that it's the best borough, as the Seclusiasis crew are putting on their first night in Brooklyn. Dev79, Starkey and BD1982 are going to destroy Williamsburg with Thorough, a night dedicated to the heeavy bass tunes. Expect grime, rap, dubstep, booty shit, the good stuff. Best of all, they're joined by the Philadelphyinz' Skinny Friedman. Game over. Capone's (221 N. 9th), no cover, free pizza.
-It's Saturday night, LA, let Franki Chan take care of everything. Iheartcomix does Check 'Yo Ponytail tonight, this time with DFA's Juan MacLean and everyone's favorite rapper, Juiceboxx, regular DJ dudes Franki Chan and Paparazzi, live set by Video Hippos, photos by Shadown Scene. It's at the Echoplex (1154 Glendale Blvd), it's your Saturday night LA.
-That kid DJ Luv Tek is the special guest at Bang!, another nice stop for Los Angelenos tonight. This party's a new one for me, but I like the mix of music a lot at
this weekly
. Luv Tek will obviously kill with the indie dance, remixes and electro, but there's also Britpop in the main room with Bip Jeffington and Joseph Brooks, post-punk and new wave in the front with DJ Brachune. It's at The Ruby (7070 Hollywood Blvd), 18+.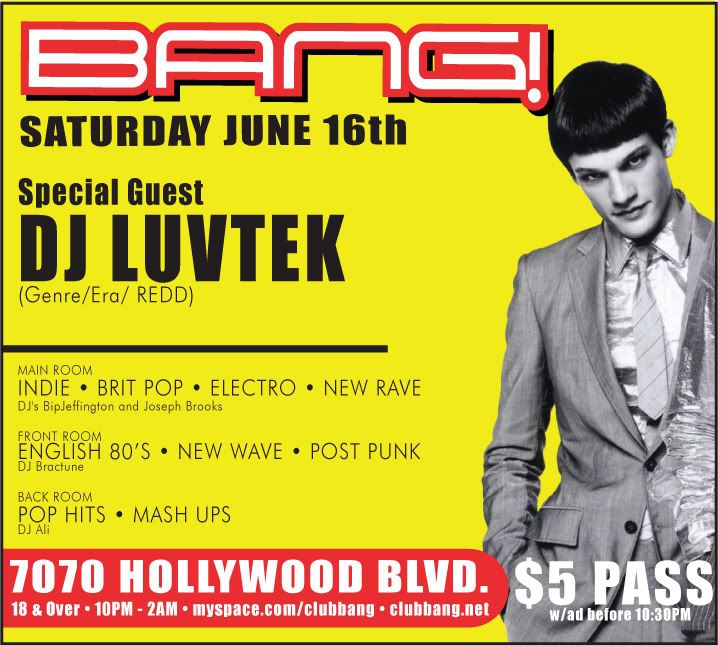 -Midwest
-Finally, remixer extraordinaire Kissy Sell Out is back in London after travelling the world for the very first edition of a new monthly, Disco Fanny. It all goes down at the 333 Club (333 Old St.) and this should be another nice new edition to the social scene of one of the best cities on earth. If you live, promote or spin outside of the US, please get in touch and let me know what's good out there. It's hard for me to know here in the states, but I do want Pound for Pound to span the globe.