JHN RDN,

Crescendolls Is Our Party

mix
(
YSI link
)
Damn, we're just rolling right now. It looks like today is going to be mix day from some of my favorite DJs, this time with a new mix by one of Philly's best DJs,
John Redden
. This one is a preview mix for the new weekly Friday night party,
Crescendolls
, that reunites the Hands and Knees dudes, Redden and Ian St. Laurent. It gives you a good sense of what to expect musically from the party, which I think is probably the party for Philly this summer. But this mix ain't just some promo gimmick, it's a dope dance mix. I mean, seriously, this is not to be fucked with. I don't have the tracklisting, but let me just say that it covers a wide range of dance music, from jackin' house to indie dance remixes. Most importantly, it's a seamless mix that should show you why I consider Mr. Redden one of the best DJs in the world. Like the best, he can keep you hooked despite the fact that you've never heard the songs before. In other words, you basically have complete faith in him that the next song is going to be dope and make you wanna dance, and that is a rare thing.
For those of you in Philadelphia, make sure to hit up John and Ian's new party, Crescendolls. It's going to be your new weekly Friday night summer jam, I guarantee it. It's happening at Goji (20th and Hamilton), the Japanese restaurant that is starting up a late-night lounge, complete with deck (where you can smoke!), two bars, lots of special guests (DJ Gregg Foreman tonight), all for 5 bucks. You also get early sets by Danielle Redden and Kyle M, who are going to be bringing more of an indie rock vibe to the night, a nice addition I think. So, don't expect Hands and Knees Part 2, just expect another sick party from these guys where you will hear the best music and meet good people and make this The Summer of [fill in your name here].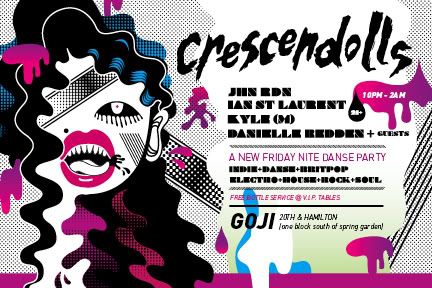 For the rest of you, head over to everyone's favorite site, behind this one, myspace, and say hi Mr. RDN and Ian St. Laurent