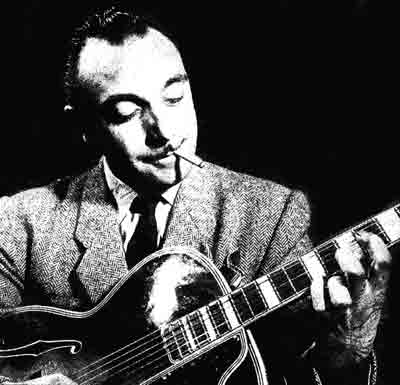 Django Reinhardt, "Echoes of Spain"

Django Reinhardt, "Rhythm Futur"

Django Reinhardt, "Nuages"

Django Reinhardt, "Pour Vous"
More Django, this time from the period when World War 2 broke out and the darkness first descended on Europe. It is during this period that the legend of
Django Reinhardt
grew, as he not only lived but thrived during Nazi Occupation despite being a gypsy. The gypsies of Germany were already being condemned to Auschwitz for murder. But in Paris, Reinhardt was performing and recording, making money, playing American songs and American music.
This particular period saw a new band take shape out of necessity, as founding members of
the Hot Club Quintet
were forced into exile when the Nazis began their murderous rampage.
Stephane Grappelli
and his violin were replaced by
Herbert Rostaing
and his clarinet. A drummer was also added, giving the band a decidedly more American swing feel.
The tracks above are my favorites from Disc 2, and should give everyone a feel for this new band and its versatility. Listen to the manic jazz of
"Rhythm Futur,"
as the band sounds like one of the first bop explorers.
"Nuages"
was recorded during this crazy period and would prove to be the band's most popular song they ever recorded.
"Echoes of Spain"
might be my favorite, as Django's lamenting guitar opens the song and beautifully conveys the sadness of the song.
Remember,
buy this ultra-cheap boxed set
, as it makes for an amazing introduction to the man's music for less than $30.