It's Fashion Week in New York City, this is probably the closest I'm going to get to all of that. One of my favorite magazines, Paris' Wad, is coming to the city and are throwing a party, WadKlub Invades NYC at Le Royale (21 Seventh Ave) Lots of Pound for Pound favorites are gonna be on hand, most notably a live show by Kudu at 11:30 and a fashion show by the rad Love Brigade. If that wasn't enough, you also get DJ sets by DJ Dee Nice from Paris, Egg Foo Young, Roxy Cottontail and Anthony 2Tone Cochran upstairs, plus Mike Nouveau & Sean Fightcats and Blu Jemz & Lloydski. There's also a Pink/Fuze open bar from 9-10 and 2 for 1 Pink/Fuze drinks from 2:30-3:30. Email heartbeat@roxycottontail.com or info@sauvagestudio.com for free admission, doors at 9pm, 21+.
-For something just as big and crazy, head downtown to 205 Club (205 Chrystie) for
Lamazing's Sexpot Bday Extravaganza
. It really is an extravaganza, with
The Real Live Show, Heavy, DJ Equal, Stimulus & Dhundhee, Belinda Baker, Nick Hook and Kingston 19
will perform and spin tonight. There will be some added surprises and gifts and scantily dressed partygoers. RSVP to 205@thetastecrew.com to assure that you get in,
presented by Taste
,
hosted by R. Napolean
, this should be an epic night. Not sure who La Mazing is, but wish her a happy birthday when you see her. Doors at 10, 21+.
-Sometimes, it only takes a few people to have a rager. If those two people are
the Sweatshop Labor DJs
, you're set. They are throwing a
party tonight at Lit (93 Second Ave) called Scraps
. Definitely check this one out, as the Lit basement is a great space that is ripe for a comeback and these are the guys who can do it. No cover, 11 pm-4 am, let's hope this becomes a regular night.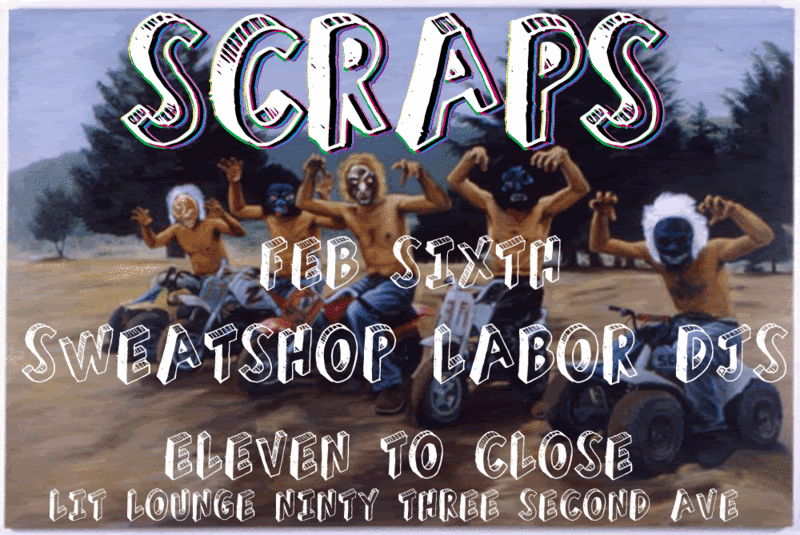 -Man, Wednesdays really is the night to go out in the city. Here's another favorite,
the Moonwalk party at Happy Ending (302 Broome St)
Rezound and Cousin Cole
do this biweekly party and needs to be a permanent spot on your calendar. Great crowd, great DJs spinning a variety of genres, from electronic to rap to 80s to mashups, you'll hear it all. 2 for 1 drinks from 11-midnight, get there early or come late, highly recommend. No cover, 21+.
-Finally, there's ole reliable
High Voltage at The Annex (152 Orchard St)
Let me first say, what a rad flier, just fantastic. For the record, the dude there is the guest DJ tonight,
Huggs
, in from Montreal to kill another dancefloor. Dude can spin all kinds of music, from classic hip-hop to funk to recent bangers, has spun with everyone from Diplo to DJ AM. He's starting out on a tour of the US and Canada, this is his only stop in NYC. Stop by to find out why he's so popular.
Residents Dimitry!!! and Prince Terrence
will do their thing as well. I'm hearing news that MTV will be in the house filming, while I'm more of a VH1 guy, that's still pretty cool. The Zygo open bar from 11 until its gone should help you get over being camera-shy. No cover, 21+.
-If you don't want to leave Brooklyn, you can check out the ChiefMag.com Issue Release Party at Savalas (285 Bedford Ave @ S. 1st) Rev McFly and Dirty Fingers will spin all night, should be a nice way to remember to check out a cool new magazine and dance right through the hump day. Free Yuengling beer at 10:30, no cover, 21+.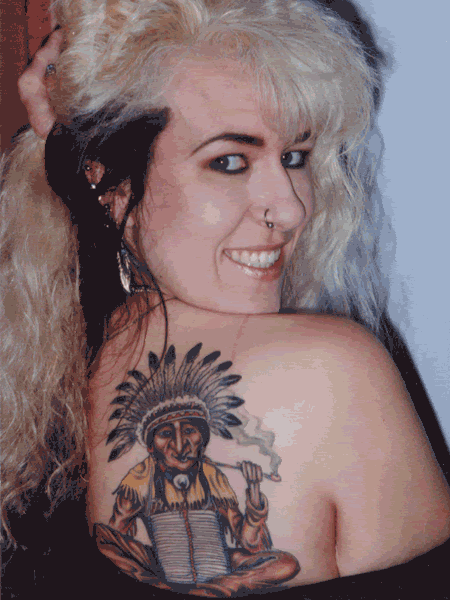 -I've said a lot about the Robotic Wednesdays party at the Electro Lounge (5929 N. May Ave) in Oklahoma City. I'm gonna be brief this time, no one wants to be beat over the head, I understand that. I will simply recommend everyone who can check this party, let the Dance Robots Dance DJs take care of you for the night. You won't regret it. $3, 21+.
-This looks like a super rad party in San Francisco,
No More Conversations at 222 Club (222 Hyde Street @ Turk)
Presented by Emily Betty, Tiri and thegentleking.com with photos by Jerome Pour Homme
, it's a night specializing in "electro, trap rap, bangers, coke rap, heavy bass, and party jams for dancing pleasure. Throw in some acid, ghetto house and disco and you pretty much don't need this blog. Each month features a new set of DJs; this month you get
Richie Panic from Frisco Disco, Sake One of Pacific Standard Time and DJ LXNDR of the Fling party
. Show some support to this monthly, really good stuff.
RSVP at the going.com site
or
message their myspace page
for $3 admission, $5 otherwise. 10pm-2am, 21+, yeah!
-LA loves the big parties and that spirit has moved into the suburbs as well, as Riverside has its own weekly indie dance rager in the form of
Club Avenue at Trilussa (3737 Main St)
Tonight's special guest,
My!Gay!Husband!
, is in from Vancouver for a little mini-LA tour. Expect a great mix of indie dance, Bmore, juke and lots of his own excellent edits, should be really rad. He'll join residents DJ Jimmy Boy and Billy Noorlag, plus Sleazy V and Bul!m!atron for a great night. 2 rooms, 5 DJs, free parking, drink specials, giveaways from American Apparel and MooL.A. Message your first and last name on
their myspace page
to get on the $5 reduced list, 18+, doors at 10pm.