Okay, I really don't have much to say on this shitty holiday, so I'm going to say very little beyond the details. I am super excited about the party at 205 Club (205 Chrystie) tonight, the return of the Musebox Monthly party. My wonderful roomie put this one together and she has done an amazing job. Live performance by Tippy, DJ sets by JD Samson, John Selway and Dances With White Girls, giveaways from Love Brigade, Vitamin Water, Lifestyle condoms and the big ticket of the night, Babeland gift certificates! It should be a really rad night, a great way to have dance-y good time that won't give you a chance to be lonely or depressed. As the flier RSVP to party@musebox.net to get in and enjoy all of this.
-Great night in the LES, check these out before or after Musebox. Lewd party, Happy Ending (302 Broome St), rekLES and seanMFNroberts, indiedancelectrockfunk all night. Saaga Vodka and Bass Ale open bar from 11-12, hosted by Antwan and Julius O.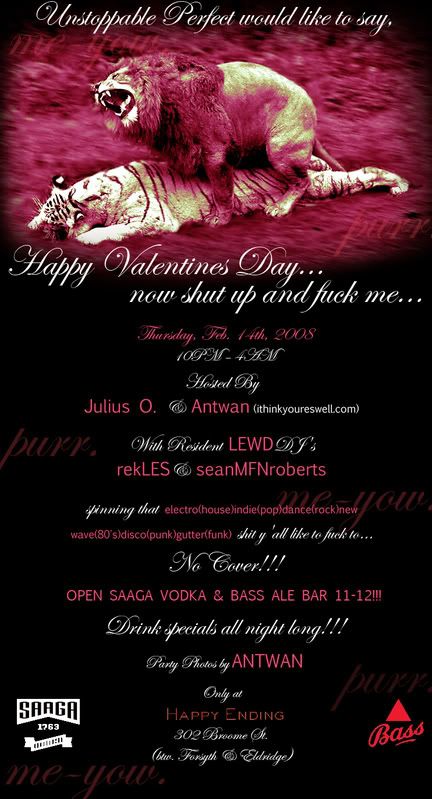 -Hey Lover party at Home Sweet Home (131 Chrystie St) with Sweatshop Labor dudes doing a 90s R&B set, plus a set by guest DJs Around The Way Girls, Sure Shot and Radio Rose. This one also serves as a CD release party for the Girls, free CDs for those attending. There's also a make-out contest sponsored by Yume, g-d knows how that gets the judged, the Shango rum open bar from 10:30-11:30 I'm sure will help make it happen at least. No cover, 21+. Great flier, btw.
-Valentine's for the rock kids, Rockit! party at Fat Baby (112 Rivington), DJs Brad Walsh, Twig the Wonderkid, VDRK, DJ Bobbypanda and Electrochris.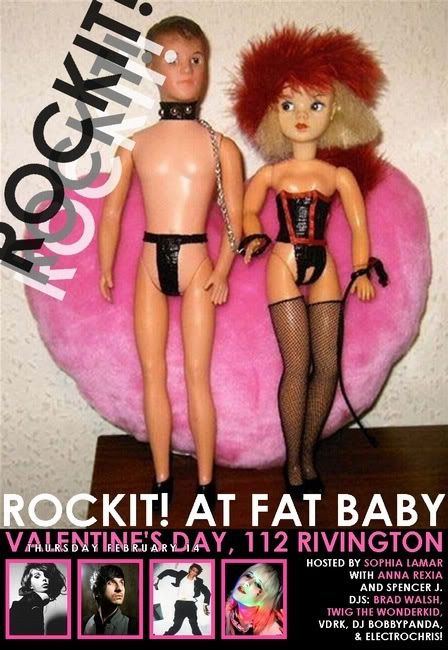 -For the disco and house kids, there's Tuned Up at Darkroom (165 Ludlow St) which thankfully makes no reference to the holiday. Andy Pry, great music, no cover, starts at 11pm.
-Degenerates at Hiro Ballroom Moby, Drop The Lime and Mixhell, a.k.a. Igor from Sepultura. Advanced tickets are gone at the going.com site, probably $10 at the door, 21+.
-Mo Money, No Problems in Philly with Stephen Bloodbath and Jaysson from Plastic Little at Silk City (425 Spring Garden St) No cover, 21+.
-Paper Street Valentine's Day party, Flavor of Love, at Walnut Room (1709 Walnut St) DJ Deejay will spin, 80s, hip-hop, party stuff, complimentary Absolut 100 drinks, $3 PBRs and Lionheads. No cover, 21+.
-providence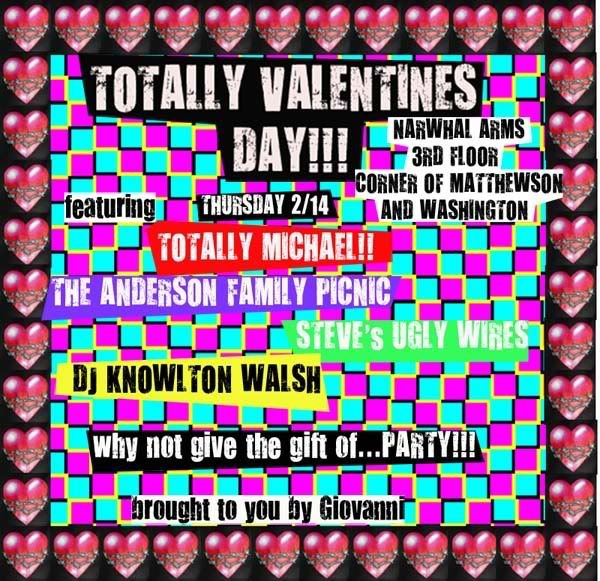 -Love Hussy party in Atlanta at 5 Spot (1123 Eucli Ave), presented by Jeff Myers, Judi Chicago, Treasure Fingers, Drew Van Atten, Chuck Chillout, Jazspa, rad dance party, rad flier. $5 before 11, 18+.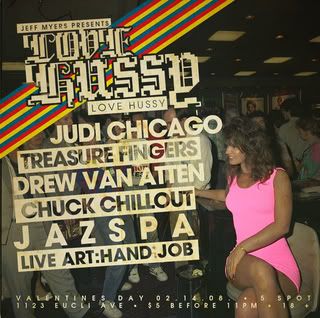 -Pretty In Pink party at the Sidecar Lounge (5100 Classen Cir) in Oklahoma City with DJs Rad and Chitty Chitty Bang Bang. Wear pink tonight, make love, dance and be happy. No cover, 21+, doors at 10pm.
-Dance Robots Dance cover Norman, OK tonight as well, as Opolis Dance Party takes over The Opolis (113 N. Crawford) B. and Dylan Mackey, all ages, $3, 10pm-2am.
-Valentine's at Debonair Social Club (1575 N. Milwaukee Ave) with Dark Wave Disco and special guests White Hot Knife and Perfect Kiss. No cover, 21+.
-Mark Rodriguez's Heist Party moves to Long Beach and sets up at Cave 49 (49 S. Pine Ave) Room 1: The Adorables, Gina Turner, Dan-O, DJ Score, DJ Spy vs. Spy, Bul!m!atron and DJ Comrade Stephen. Room 2: Erick Neutron, Jesse Bot and new LA resident and Dance Robots, Dancer Joshua Distance. 18+, doors at 9pm.
-Club Pop in Seattle at Chop Suey (1325 E. Madison St) with residents Colby B and Glitterpants, special guest Sam Rousso Sound System of the Ruff Gemz party. $5 before 11pm, $10 after, 21+.
-I promise to not be so curt and lame tmrw night. Sorry.