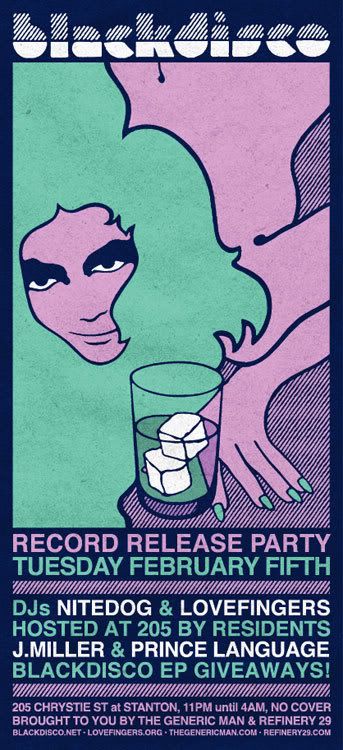 Okay, this is gonna be quick one, got lots of music to get to shortly. But, it's Tuesday night and I have to hype my favorite party,
205 Tuesdays at 205 Club (205 Chrystie)
This is a special night, as it's a
Blackdisco EP
release party
and the first night with
Prince Language
as resident.
Blackdisco features DJs Nitedog and Lovefingers
, who spin that underground disco sound that will fit in perfectly in the basement, can't wait to check this out. To take it up a notch, No Disco Comprendo's Prince Language join DFA's Justin Miller for the month of February as resident DJ. I mean, what more could you ever ask for?
-Out in LA, Scion is doing house party and it's not on some kegs and iPod thing. It's actually at the Viper Room (8852 W. Sunset Blvd) and Hot Chip is DJing, so it's pretty much the complete opposite of a house party. Let's not get bogged down in semantics though, let's appreciate a party featuring
Hot Chip, Spank Rock DJs Devlin and Darko and Franki Chan
. Let's also appreciate that it's free, as long as
you click over to the RSVP site
. Once on the list, get there early, as space will fill up fast. Doors at 10pm, 21+.
-If you can't get in to that one, head over to Arena (6655 Santa Monica Blvd) for the weekly dANCE party. Tonight's edition might be the best so far, as they have globe-trotting indielectro superstar Le Castle Vania playing the main room. You should not miss this guy, for real. Paparazzi will join him in the main room, while Spy Vs Spy, Bip Jeffington and Joaquin do it up in The Attic. This party has been a big success with big, young crowds every week; tonight is definitely a can't-miss one, good time to get on board. $5 before 10:30 with flier, 18+.