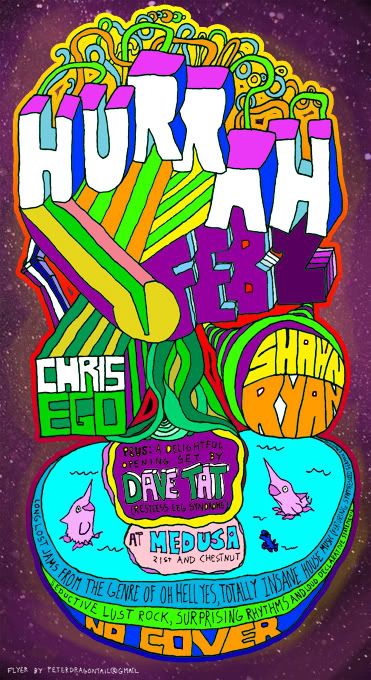 I've been getting more and more excited by all of the great parties in Philly devoted to the music we love like acid house, electro, house and even disco and techno. Hip Replacement, Restless Leg Syndrome, Robotique are a few, tonight's heaadliner is another. The Hurrah party at Medusa (21st and Chestnut) happens the first Saturday of every month and it needs to have a permanent place on your calendar. Shawn Ryan and Chris Ego spin a mix of face-melting dance stuff and that spiky, danceable post-punk funk stuff. Tonight, the guy's are joined by Dave Tat of the aforementioned Restless Leg Syndrome party, who will fit right in with a similar mix of music. Best of all, it goes down in the dark basement space, which is just made for dancing and debauching. Get behind this Philly, it's gonna be the scene. No cover, 21+.
-Afterwards, head to Transit for the city's only afterhours party, Mad Pu$$y. This one's bringing in a ton of great guests every Saturday, tonight is more for the regulars and local stars. Brendan Bring'em will spin in the main room, the Philadelphyinz will hold down the basement and C Sharp spins reggae upstairs.
Click here
to get on the list, which gets you in free before midnight, $5 after. Get there early and enjoy free PBR from 10-12, per usual, 21+.
-Speaking of Philly, Dave P has brought The Teenagers to Brooklyn with him for the Fixed party tonight at Studio B (259 Banker St). This is your last chance to catch the guys in NYC, they'll play at 11pm so don't dilly dally. To take it all up a notch, this one's the Hot Chip official afterparty and those guys will do a guest DJ set. The hype may bring the building down, so be careful. $10 advanced tickets, $12 at the door, 18+.
-I was thinking of just mentioning the U.N.I.T.Y. 90s party at Hugs (108 N. 6th St), not putting up the flier. But, they flipped the script and remade the flier and it has to go up. Marky Mark in his underpants, I mean whatever, I don't think he's hot, not one bit. I'm not attracted to him or rippling muscles at all, so just deal with it. I am into this party, Lauren Flax and JD Samson's party dedicated to the music of the 90s. The ladies are joined by Chelsea Star from the legendary gay SF party Hot Pants, should be as good as ever. I can say that this party packs people in, get there early to find a good spot on the dancefloor.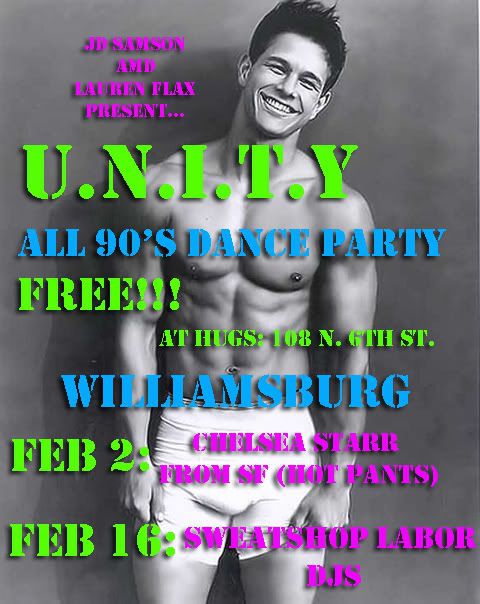 -The Dark Wave Disco are back with
an all-ages party tonight
at Subterranean (2011 W. North Ave) and they're going to turn the volume and bass way up. It's the Blow The Speakers party, a mix of rock and dance music, where Trancid, Mark Gertz and Greg Corner join with Kid Color to destroy your eardrums. In a good way. $7 for 18+, $5 for 21+, doors at 10:30 pm, the party goes until 3am.
-The battle between the decades is on tonight, as the Dance Robots, Dance DJs are throwing The Eighties Dance Party at Electro Lounge (5929 N. May Ave) Ahh, what a decade, especially if you forget about Reagan. New wave, real electro, late disco, post punk, I trust that the DRD guys will have a field day with all of this material. This looks like it's the fourth (and possibly final) edition of this party, so don't sleep. $1 if you dress up, $3 if you don't, doors at 9pm, 21+.
-You think the Frisco Disco guys are soft? Think again, Jefrodisiac and Richie Panic carry big guns and even bigger tunes to kill dancefloors. Tonight at The Transfer (198 Church St) they remind you why this is one of the most fun and crazy weeklies anywhere.
Check out the photos from the January 26th edition
to see just as crazy and awesome, this many people kissing, hugging and dancing can't be wrong. Awesome photos by Lady Meleksah, awesome party. Free before 10:30, $5 after.
-