I fear discussing tomorrow and the holiday associated with it, but thanks to the Dance Robots, Dance DJs, I can the holiday as it should be - sleazy and half-naked. They're throwing a Valentine's Underwear party at their Robotic Wednesday weekly in Oklahoma City and I couldn't be happier. Fuck Hallmark and flowers and feeling lonely; head to the Electro Lounge (5929 N. May Ave) and dance and drink and get semi-naked and be happy at one of the best parties anywhere. The DRD crew will provide the perfect filthy soundtrack to the night, you have nothing to lose but your clothing. In your underwear, no cover, in your complete clothing, $2. Having seen pics of last year's edition, it's clear that Oklahoma City is ready to go crazy. Doors at 10pm, 21+.
-Lots of fun stuff in Philly, let's start off with this concert/dance party at Silk City (4th and Spring Garden) The Apes headline, bringing their organ-y rock sound to the Northern Liberties spot. Philly's own GANG will play as well, don't miss their dance-rock music, a local band that should get bigger. Rounding it out, The Hurrah DJs, Shawn Ryan and Chris Rogy, will probably spin music from similar genres, indie, indie dance, post-punk, if you haven't been to their monthly, here's a great chance to get a little dose. $5 admission, doors at 9pm, 21+.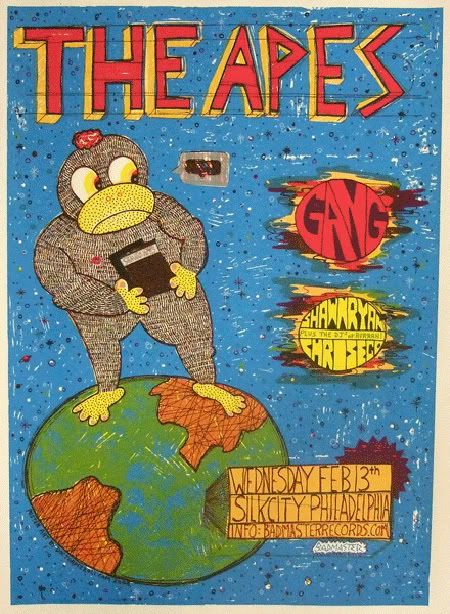 -Not too far away, down in Fishtown, the venerable Crescendolls party takes over the Barbary (951 Frankford Ave) JHN RDN, Ian St.Laurent and Gregg Foreman will bring a little extra love tonight, not sure if that means some love songs in the midst of the dance and soul classics, but it's worth showing up to find out. They're showing their love up front to you, with free mixed drinks and PBRs until 11pm. No cover, 21+.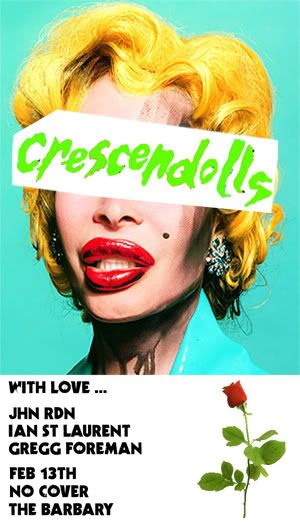 -If you are in Center City, check out the Exploit party at Sal's (200 S. 12th St) Tonight's edition features Taperecorder as guest DJ and he will be spinning a tech-house set. It's definitely not a sound that you get to hear much, definitely recommended. He joins the ladies of Exploit!, or at least two of them, Jenn Louie and Deann Dylema, for a night dedicated to electronic music. No cover here either, 21+.
-Not a whole lot going on in NYC, which makes it a good night to check out two of my favorite parties downtown. First, there's the High Voltage party at The Annex (152 Orchard St), which keeps rolling along, getting more popular and bigger each week. Tonight, residents Dimitry!!! and Prince Terrence are joined by DJ Fancy of Fannypack fame for what should be a fun night that has absolutely nothing to do with Valentine's Day. Yeah! Zygo open bar from 11pm until its gone,
RSVP at the going.com site
to get in for free and to see all of the young, beautiful people who will be in attendance. Doors at 10pm, 21+.
-You should also hit up Happy Ending (302 Broome St) for the Hopchank/Ninja Sonik party, which goes down every other Wednesday. DJs Reverend McFly, Morsy and Teenwolf throw one of the best parties at one of my favorite spots, great music, rap, rock, some dance, good crowd, fun times. Highly recommended, for real. No cover, 21+.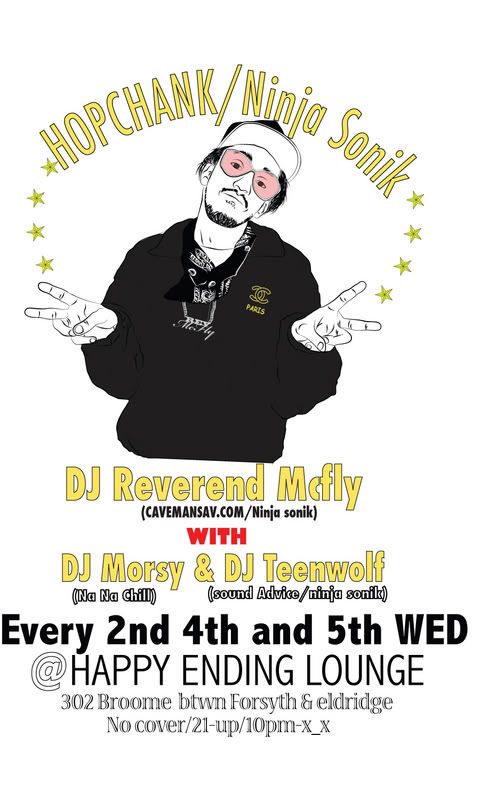 -It's Syndicate Wednesdays at Debonair Social Club (1575 N. Milwaukee Ave) in Chicago, don't think I've mentioned this party before. It looks like they bring in a few new DJs every week with an emphasis on mash-ups, which I assume just means mashing up genres like electro and house. Tonight's a good night to check this out, as Trancid of Dark Wave Disco, Jesse James and Onepunch get behind the decks. No cover, $6 Effen vodka cocktails, doors at 9pm, 21+.
-Late addition, never hear much going on in Denver, always nice to be able to hype a party and a new city. The Distortion Disko looks like a great opener, a party dedicated to electro, new wave, funk and Britpop, with a focus on providing a place for people to freak out and act crazy every Wednesday at the Hi-Dive (7 South Broadway). Tonight's a great night to check it out, as Soviet Panda from Too Much Love is the special guest, really great choice for this night, Panda should kill it. $3 cover after 10pm, $3 Stoli drinks, 21+.
-Out in LA, this looks to be a rad Awesometown at The Short Stop (1455 W. Sunset Blvd) with Greg from Acid Girls, Dirty Dave and Shaun Slaughter coming through to destroy the dancefloor and hold it down while Anne Lee and Shadowscene take over Japan. $3 Dewars drinks all night, no cover, 21+.
-The weekly Wednesday night Avenue party in Riverside at Trilussa Nightclub (3737 Main St) does a birthday edition tonight with some of the best young local DJs Skeet Skeet, Luv Tek, Hyphy Crunk, Billy Noorlag, Jimmy Boy and Rec One. However, the best reason to come through is to catch the last LA appearance (for now) by Vancouver's My! Gay! Husband! 2 rooms, 18+, send a message with your first and last name to
their myspace page
to get on the $5 reduced admission, then go have fun.