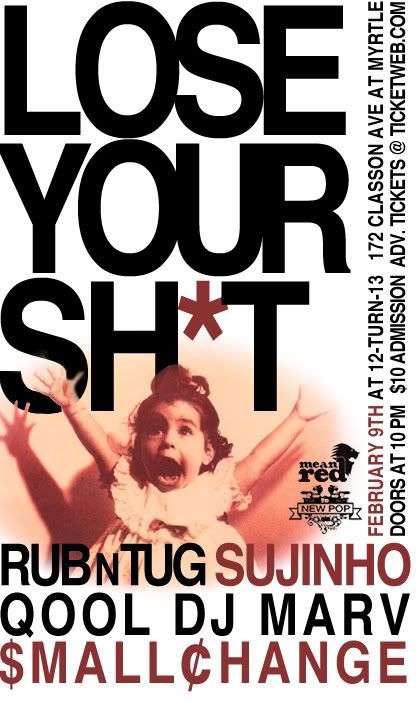 Tonight is real quality, a big Saturday night. Meanred Productions is setting the bar super high with the Lose Your Shit party at 12Turns13 (172 Classon @ Myrtle) in Bed-Stuy. What makes it so rad? Rub-n-Tug, motherfuckers, Rub-n-Tug. The disco-funk-weirdo DJs are headlining, going back to their loft roots and you won't want to miss this, possibly the best DJs you'll hear all year. Also in the building are DJs Sujinho, Qool DJ Marv and $mall ¢hange, should be a great mix of rap, baile funk, noise, all over the map. Seriously, this is the night you've been waiting for, a night away from the clubs with some of the best DJs in the city, no photographers, no b.s. You can
grab an advanced ticket
or pay at the door, $10. Doors at 10pm, I think it's BYO, FYI. Yeah! Lose your shit Brooklyn!
-If you like something a little more structured, you need to hit up Studio B (259 Banker St) tonight, as Modular and the People Don't Dance No More party have combined forces to bring Joakim and his Ectoplasmic Band to Greenpoint to play live. I'm not sure if this is the first NYC show by this group, but it's definitely a rare opportunity to catch one of dance music's most interesting artists and his new project. Sounds great but there's still a lot more going on, as Juan Maclean, Andy Butler of Hercules and Love Affair and Robot Blair will spin. Don't miss Butler, just a word to the wise.
Grab $10 advanced tickets
or pay $15 at the door. Doors at 10pm, 21+.
-If you want something a little smaller or want to get a jump on Valentine's Day, hit up Royal Oak (594 Union Ave) tonight for the Eat Your Heart Out Valentine Bash with DJ Tiny Pants and DJ Weisted. Here's your chance to celebrate with your honey and get drunk and stupid before the nice dinner in a few days, or else to meet your future Valentine. Or you can just go out and have fun, stop by before or after Studio B, hang out and ignore the corporate holiday. Either way, the DJs will spin lots of great dance tunes and cheesy pop and make it a necessary stop in your Williamsburg night. No cover, 21+.
-I just caught this one at the last second, really glad I did, as the Hip Replacement party should be everyone's favorite party in Philly. Disco will save your life and Mike Tee, Billy W. and Jhan Olo can make that happen once a month. Tonight's party looks extra rad, as they've brought in special guest Jeremy Campbell, a.k.a. Tropical Jeremy, to make the night cosmic. Dude will blow your mind with cosmic and italo tonight, a great follow-up to the set he did at Paradise a few years ago. Honestly, I hope that everyone in Philly gets behind this night, great stuff. No cover, 21+.
-Always excited to see the Pi Lam guys throwing a party, they've held some rad events at their house (3914 Spruce St) in the past year. They've got a special one tonight, the Mind Control party, a night dedicated to dubstep, grime and bass anthems. They've chosen the right DJs, bringing down Star Eyes of NYC's Trouble & Bass and bringing in hometown heroes Starkey and Dev79 to rattle your heads with sub-bass. I really recommend everyone in Philly come through to check out Star Eyes, she's excellent, the music tonight should be extra good in a house party setting. Doors at 11pm, that's the only info I have.
-If you don't want to cross the river or want something a little dancier, hit up Medusa's (21st and Chestnut) for the monthly Philadelphyinz gathering. APT One and Skinny Friedman are getting bigger and bigger, makes this party in the dark basement spot all the cooler. You know the deal here, read the flier for a way radder description of the musical content. One of the best parties in Philly, second Saturday of the month, no cover, 21+.
-Sadly, I feel like I have no clue about what goes down in Baltimore. It's nice to be able to put something up from the Charm City, this Monkey Hustle party at The Depot (1728 N. Charles) looks good. Every 2nd Saturday of the month, Mikie Love and guests spin, "playing jump up, get down, electronic sexy music". Tonight, Love's joined by Stretch, Famous Amos, Steve Newsense, Pixelbombs, Atari Krunk and Philly's Steven Bloodbath. No cover, cheap drinks early, doors at 9, goes til 2am, late night party at the Copycat Building to follow late night.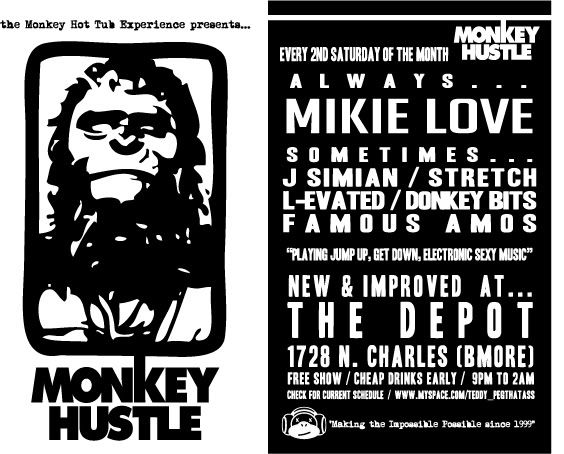 -Tulsa, it's a Dance Robots, Dance Invasion tonight! Don't be scared, though. B. Kylie and Dyaln Mackey come in peace, they wish only to spread great dance music and good vibes. Head to the Soundpony (409 N. Main St) for a guaranteed rad Saturday night. Doors at 10pm, 21+, I don't think there's a cover, but I can't guarantee that.
-Late Update: Pase Rock has also been added, taking it all up a notch. Hmm, the French band Data seems to be awfully popular in LA tonight. Not sure if the band is playing at both parties or if there's some confusion, but whatever, you can't go wrong at either event. Anne Lee and Shadowscene present the Blow Up LA Winter Formal tonight, with Data headlining, Richie Panic of Frisco Disco, Sleazy V and Bul!m!atron spinning at a downtown warehouse (4301 Valley Blvd) RSVP to blowup@princehouserecords.com to get in for $5 before 11, $10 after that. There's $2 vodka monsters from 10-12, 18+, party goes til 4am.
-Iheartcomix, Viva La Rock and XLR8R are bringing you Mixhell tonight at The Echo (5514 Sunset Blvd) Mixhell is actually Iggor Cavalera, the drummer from Sepultura, this is his DJ project. He says that he blends electro, discopunk, old school hip-hop, rock and electronic stuff, while using an MPC sampler to add the right amount of beats to the mix. Data is also scheduled to play, plus My! Gay! Husband! spins with Franki Chan and Paparazzi. Another big night for this party, one of the best around.
$12 advanced ticket
, 18+.
-While Mr. Panic is blowing up in LA, Jefrodisiac holds down the weekly Frisco Disco party at The Transfer tonight. He's brought in the guys from the Missing Toof blog to keep him company and help keep the raucous, raging atmosphere at this one. I'm sure you've been to this one, no reason to stop now. Doors at 10pm, 21+.