I've been a big fan of Will Eastman and all of the good things he is doing down in D.C. His Blisspop party is the big one, the monthly rager that brings it all together at 9:30 Club (815 V Street NW) This one looks like the biggest and best yet, so it's not surprising that it's called Best Party Eva. 33HZ will play live, Dave Nada, DJ Meistro and Mr. Eastman himself will spin all night and you should be psyched for this one, District of Columbians! Sponsored by Scion and brightestyoungthings.com, this should be a great night of indie dance, hip-hop, disco, house, great band, great DJs. What the hell, best eva. $12, all ages, doors at 10pm. Take a minute and check out the video flier for this one, Pound for Pound goes viral:
-It's a big night in Williamsburg, nothing bigger than the one year anniversary party for FUN at Studio B (259 Banker St) They've clearly chosen their special guests for maximum Pound for Pound attention : electro legends Egyptian Lover and Newcleus. I mean, seriously, this is huge. It's not every day you get to take a trip back to the early 80s glory days, when machine music took over. Egg Foo Young of Turntable Lab is special guest DJ with residents Rok One and Eamon Harkin. There's also a NewYorkFuckinCity side room with DJ Elle and IXL, all your musical needs you should be covered. Hosted by Roxy Cottontail, presented 10 Deep, Re:Up Magazine and TTL, this is a fitting celebration for one of the city's best weekly. Open bar from 10-11, $10 advanced ticket, $13 at the door, doors at 10pm, 21+.
-Great party at Hugs tonight that appears to be called Space Cakes, not totally sure what the name means, but I do know that the DJs on hand are some of my favorites from NYC. Nick Catchdubs, Star Eyes and Rezound are joined by Seattle's Pretty Titty for this one. This one should be a fun, laid back night, as all of these DJs will spin great music from all genres. No cover, 21+.
-Still in Williamsburg, the Finger On The Pulse guys do their regular thing at Royal Oak (592 Union Ave) Tonight's edition is a birthday edition for Courtney featuring Heidy and Trebek of Montreal's Guilty Pleasures and Weekends Never End and of course Never Forget and Terry Diabolik. You know the deal, fun times, dancing, drinking, stop in early or late or stay all night. No cover, 21+.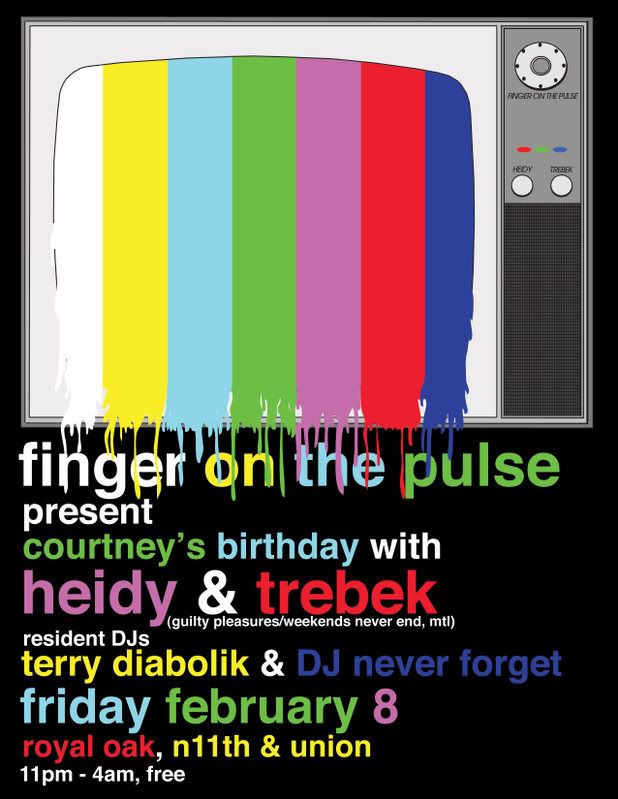 -If you have to be in the city, there's one top choice and that's the Stop Progress party at APT (419 W. 13th St) where resident Max Pask is joined by DFA's Mock and Toof in the basement. Those names should have you already super psyched, so I won't hold you back. $10, 21+, awesome.
-I'm amazed at how much LA loves to do it big. Each night seems to have another massive party featuring some of the best of the local DJs. Tonight, it's the Hype LA party at Robertos (686 N. Spring St) with resident DJ Don't Believe The Hype being joined by guests DJ S!n and Hyphy Crunk in the main room. The side room is held down by guests Disk Jo Slim, Dmndays and Bul!m!atron. Expect big music all night, new ravelectro, Bmore, indie in both rooms. RSVP at the going.com site for $5 admission before 10:45, $10 otherwise. 18+, doors at 10pm, goes until 2am.
-The Mute party at the Proof Bar (215 N. Broadway) in Santa Ana has been a really consistent party, bringing in quality DJs week after week. Tonight, they host My! Gay! Husband!, who we mentioned earlier in the week. The Iheartcomix dude is definitely worth checking out, he will help DJ Legit, DJ Ben N. and Rockberry take this to the next level. Doors at 9, no cover, 21+.
-Let's end with one of the most consistent parties anywhere, the Lights Down Low party in San Fran. Tonight at the 222 Club (222 Hyde @ Turk), things are going back on some War Games 80s computer nerd shit. Laromlab brings along his Commodore 64, Atari, laptop and samplers to create computer music, which fits well with the name of the guest DJ, Commodore 69. Residents Sleazemore and Rchrd Oh will smash computers and melt your faces with dirty dance music. Parker Day takes the photos, you need to be a part of this party.