It's a big night so we might as well start with one of the biggest parties I've seen, Jonathan K's Booty Shakin Birthday Blow Out at Studio B (259 Banker St) in Greenpoint. Take a look at the line-up and be in awe - Spank Rock live, DJ sets from The Rapture, Busy P and So Me, Le Tigre's JD Samson and Eamon Harkin, plus Dances With White Girls and Andy Pry of Throne Of Blood in the side room all night. Late Update: two new live performers were just announced: some guy named The GZA and Amanda Blank. Yeah, this is crazy. You're gonna want to grab a ticket right now as they have been selling at a crazy rate, esp for a Studio B party. You may not get in at the door is what I am sayin'.
Check the info here on how to purchase
advance tickets, $18, 21+.
-More good stuff in Williamsburg, as the Finger On The Pulse guys are doing their Royal Oak party tonight and it's a good one. They've brought in special guest DJ Treasure Fingers from ATL, it's the first NYC appearance for the Fool's Gold/Fuck Yesss dude. This one should be a great night of new electro, indie dance stuff, plus the old soul and r&b that you always get at FOTP parties. RSVP at music@fotpnyc.com to get on the list, no cover, 21+.
-Sometimes you just want to act like an adult, dress nice and enjoy a cocktail. If that is the case, head to Macri Park (462 Union Ave) tonight for Cocktails with Sweatshop Labor. Bring a date, impress with your style and sophistication, listen to great music, get blindingly drunk because you aren't used to drinking real drinks instead of shitty beer. Seriously though, this is a nice choice for anyone looking for a chiller, more intimate or a good pre or post game for some of the other festivities.
-The final Williamsburg piece is at the Lucky Cat (245 Grand St) where the Philadelphyinz meet Flagrant Fowl, Apt One and Skinny Friedman join Cousin Cole and Pocketknife for a night of genre-hopping musical exploration. I feel like this has become a regular gig for the Philadelphyinz, definitely recommend checking them out, always good to hear people willing to spin songs that came before 2007. No cover, $1 off well drinks for women before midnight, 21+.
-You know I recommend not going into the city on weekends anymore. However, I think that I have come up with a plan to do that and have fun: go to the heart of darkness, into the beast of the belly, hit up a mega-club in the Meatpacking District! I know what you're thinking: have you gone mad, Jack? No, no I have not. This is a brilliant strategic move, as you will go where they least expect you and you expect to have the least fun. Thankfully, you have allies waiting to make your night rad in the form of the Top Billin' party that Project Matt, Nicole Nelch, Yossi C and C. Dedan and others throw every Friday. Tonight's is a good one, as The Rub's DJ Ayres is joined by Turntable Lab's Lloydski for a night of dancefloor Email topbillinfridays@gmail.com for guestlist, 21+.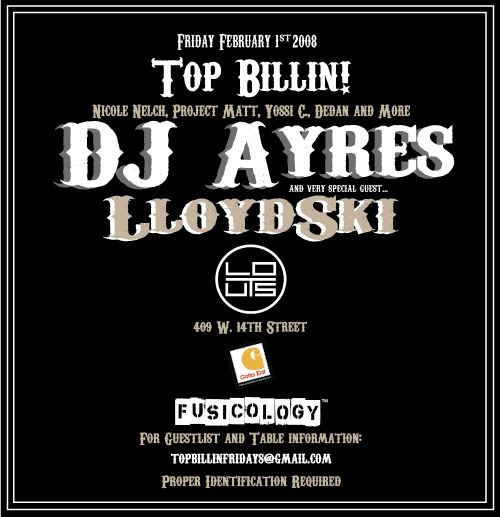 You can also head downstairs for Michael T's Pornography party in the basement, as it's look like a good one with Jimmy Edgar from Warp Records spinning. Hell, you also get Melody Nelson and Ole from Diesel and Raw,
rsvp at the going.com site for free entry
.
-There's also GBH's Robot Rock party at Le Royale (21 7th Ave South), which features a guest DJ set by Fanny of Fannypack. He should provide a nice change-up at this rock party, hopefully bring a little bass to the kids. There's also TKOmri, who will spin robot rock and electro, along with residents Dimitry!!! and Alex English. Email list@gbh.tv to get on the list for free admission, $10 otherwise, 21+.
-Finally, down in the Lower East Side, it's a new party called Deprogram at Revolver (210 Rivington btwn Pitt and Ridge) I haven't heard much out of this club since the summer, hopefully this is a sign that they are going to put on some good parties again. The Art After Midnight guys, Chris Alker and Sushi Steve, are the residents and they are joined by June D of White Dove and various other parties. It should be a fun night of electro rock indie music at a nice bar on the edge of all the horribleness. No cover, 21+.
-Huge night down in Philly, as two of its biggest parties go down tonight. First up, Making Time takes over Pure (1221 St. James Place) with The Teenagers in tow. They've been the belle of the balls in NYC this week, now they can see what a great crowd and city look like. All the other usual suspects will be there, Dave P, Dave Pak, Dave Z, Adam Sparkles, Pink Skull, the Broadzilla crew. Down in the basement, the Rock Tits crew are actually have a live performance tonight, as Dark Horse and the Carousels will play live in the basement. I mean, you know the deal, this one will be insane. Open bar with Sparks and PBR from 9-11, $10, 21+.
-The White Ts White Belts juggernaut continues to reign. Fresh off of the Freeway live performance (and surprise appearances by Beanie Sigel and Peedi) Emynd, Bo Bliz and Dan the Swede have brought in Blaqstarr from Mad Decent to keep the momentum going. I mean, $10, open bar, BYOB, rap, Bmore and bangers, late night until 4 am. Get to the Arts Garage (1511 Parrish St), 21+, Philly's finest here.
-Ugh, thank G-d for Will Eastman or I just wouldn't even be able to look at D.C. I mean, telecom immunity? Are fucking kidding me? Will's Friday night jawn Le Freak at Napoleon (1847 Columbia Rd) should help you feel better about your city, big, diverse crowd enjoying themselves. Get behind this one people! Half-priced champagne from 9-11, house, disco, booty, r&b, rap, awesome.
-This week was the 5th anniversary of Life During Wartime, as Bald Eagle and Mother Hubbard started their little dance party on January 29, 2003. Fast forward 5 years and LDW is all grown up. They've hosted everyone from Soulwax/2 Many DJs, The Rapture, James Murphy, Bloc Party and ton more rad bands and DJs. Head out to the Darkroom (2210 W. Chicago Ave) to celebrate one of Chicago's best parties with the OGs, Bald Eagle and Mother Hubbard. Jessica of the band Office is a special guest DJ, email rsvp@enpriseentertainment.com to get in on the VIP Bushmill's open bar from 9-11.
Go to the going.com site
and let them know you are coming, it's free before 11pm, $5 after, 21+. Happy anniversary LDW!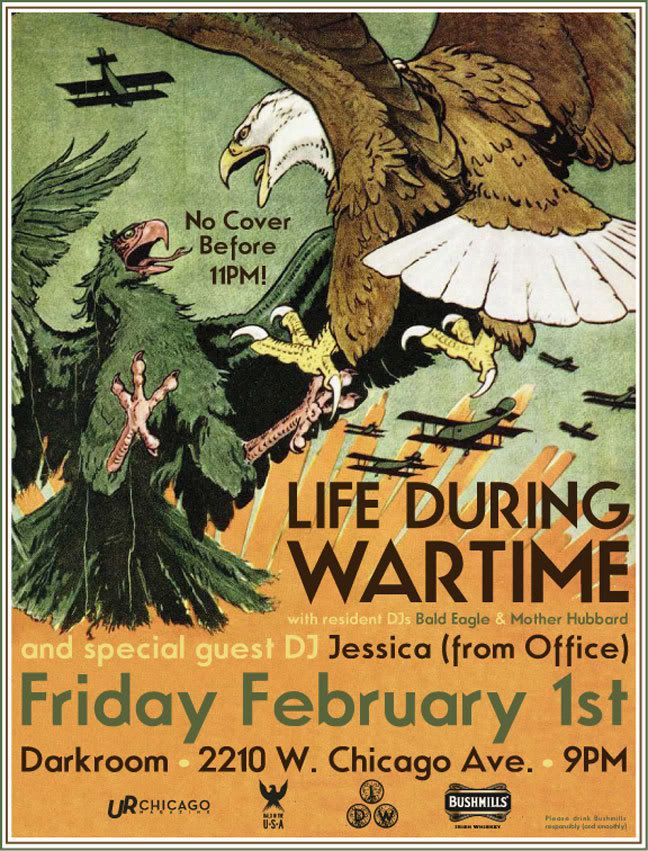 -Wow, here's a super rad party in Minneapolis, the Hotel party at The Kitty Kat Klub (315 14th Ave SE) I'm not sure if it's a regular thing or what, but who cares? Live for the moment. Minneapolis' own Jonathan Ackerman and Dan Cruse is joined by amazing Max Pask of the Stop Progress party and 205 on Friday nights, it's gonna be cosmic in there. Keep your ears open, there may be an afterparty. No cover, 21+.
-The Loaded party in San Fran has a great tagline - Love Music Fuck Genres. It also has a great line-up with We Are Wolves playing their dancerock live, Kompakt's Tobias Thomas spinning minimal, Jeffrey Paradise and Audorock giving you everything else you need. Get to the Rickshaw Stop (155 Fell St) for the festivities, $10, doors at 10pm, 18+. Down with genres!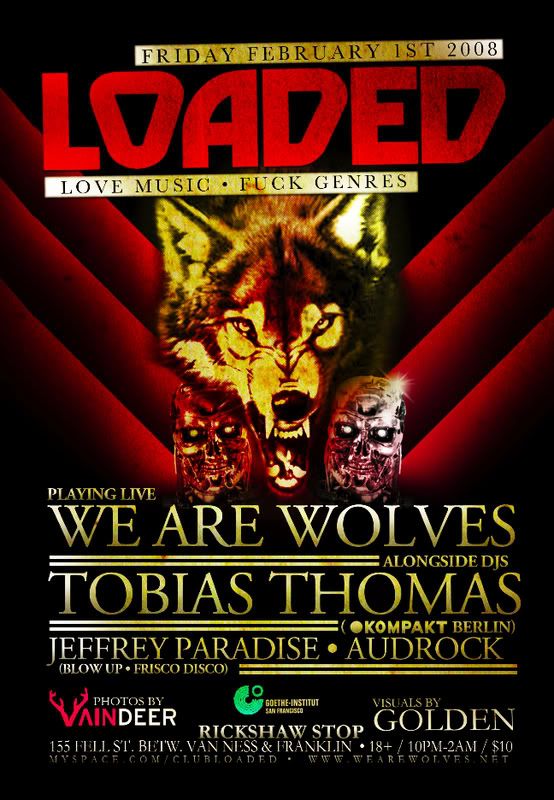 -In LA, it's the return of the Rockognized vs Hush Hush party, as it looks like a good one. Classix, Royal Rumble, Dan Oh and Damager will spin at the Abacot Gallery (970 N. Broadway Suite 201) It should be a good time for those looking for something a little different than the cloub scene out there. $5, 18+, all kinds of music, awesome flier!
-Or head to Safari Sam's (5214 Sunset Blvd) for another head-to-head party, as Blow Up LA vs Le Disko clash tonight. Keith Wilson and Anne Lee present, Keith 2.0, Anne Lee, DJ 19 a.k.a. Young Sunn and DJ (N) spin, Shadowscene is taking photos and you will be dancing and drinking. Free before 10:30 with flier, 18+, cheap drinks, doors at 10.
-In Santa Ana, the Mute Fridays party at Proof Bar (215 N. Broadway) has their biggest guest yet, Peter of Peter, Bjorn and John. Dude DJs quite a bit, so he should be worth checking out as opposed a lot of the band dude DJs out there. It's also a Steve Aoki album release party as well, the residents Clifford Lidell, Legit, Ben N and Rockberry have taken it up a notch tonight. Email rsvp@mute97.com for $5 entry, 21+.