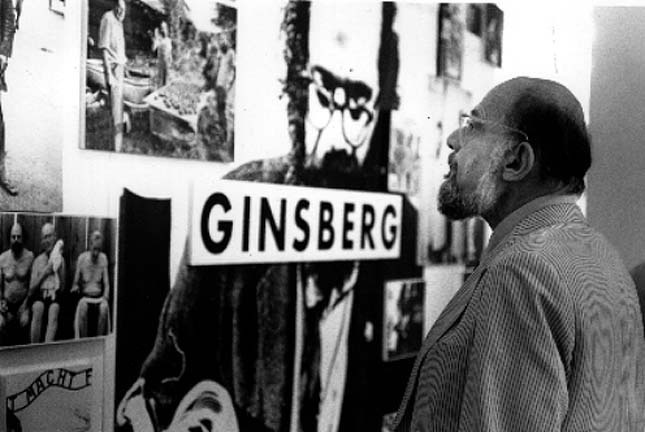 Allen Ginsberg, "Kaddish"

Allen Ginsberg, "To Aunt Rose"

Allen Ginsberg, "City Midnight Junk Strains (For Frank O'Hara)"
I had so much fun putting together the last post on books, searching around for info on my favorite authors, and thinking about what I want to read, that I decided to do one more post on literature. By one more, I actually mean a few. I wasn't lying when I said we were going to get our nerd on this week.
Above are three more tracks from the
Allen Ginsberg
boxed set,
Holy Soul Jelly Roll
. The first ranks as the most powerful poems that I have ever read/heard, an elegy for Ginsberg's recently deceased mother, Naomi.
It is an amazing work
, full of the passion and loss and memory and the personal that doesn't always show up in late 20th Century poetry. The story behind its creation is interesting Ginsberg was in Berkeley when his mother passed away, and he did not attend her funeral. He later learned that
Kaddish
was not said at her funeral, because there were not enough men in attendance to form a minyan. One night, he told his friends this fact and so he and his friend Zev Putterman spent one wasted night reciting the poem to honor his mother. This poem was written in the aftermath of this night, an attempt by Ginsberg to come to terms with the life and death of his mother, a woman who suffered from mental illness and who lived her last years in institutions.
It is this personalness that sets him apart from the poetry of much of the late 20th Century for me. As much as I love a language poet like
Charles Bernstein
, these postmodern works tend to be all surface, dead to the world outside of the page. All three of the poems above deal with the issues that most interest me: the city, memory, loss, tradition, balancing the past and the future. Listen to the opening lines of "Kaddish," where Ginsberg walks the same streets of the Lower East Side and Newark that his mother had once walked. It is a wonderful take on the essence of the city, the site where memory lives on the streets, where the old and new mix, where the future and past fight each other. The street is just as important to him as the imagination, making him the best urban poet since
Walt Whitman
.
-In a major coincidence, another blog has decided to focus on literature recently as well, having writers discuss some of their favorite music. The only difference would be that people have heard of
Moistworks
and that they have gotten the actual authors and writers to particpate. I would take EC any day of the week over any of their participants, but it's not a contest. Best of all, to connect our posts with theirs,
Jonathan Lethem
,
hero of this post
, has
dropped a post of his own on all of
his favorite songs about fowl
. It's an amazing chance to hear from some of the best American writers and even better chance to find out what sort of music inspires them. It's great to see the blogworld spreading out to other artistic fields, as it would be fun to see the same type of hype for Artic Monkeys reserved for the next Lethem or
Zadie Smith
or whoever.
-Speaking of Lethem,
I came across news that his novel
Motherless Brooklyn
is being made into a movie. I have mixed feelings on this news, as Hollywood tends to fuck these things up and you always want to see your favorites left alone, kept your little personal secret. However, let's be honest, nerd cred doesn't put Cristal in the fridge and implants on the girlfriend. So, congrats to JL for making some money, and let's hope that he has a big say in how the movie turns out. [Via
Badger Meets World
]
-Another of my favorite writers has
one of his books in theaters now
, as Richard Price's
Freedomland
has been out for a few weeks now. Not sure how the movie turns out, although
the reviews have
not been flattering
. I cannot recommend more highly the work of a writer than Richard Price's, most known for
Clockers
(which was destroyed by the hand of Spike Lee).
-Finally, I couldn't help mentioning
the blog story of the week
, as
Nick Sylvester
was exposed at the new Jayson Blair who was the new Stephen Glass who went to Penn. It appears that
Sylvester fabricated parts
of his first cover story for the Voice last week, and was forced to admit that he had never met people he quotes in the article. He's out at Pitchfork and suspended at the Voice.
Gawker has all the info
you need on this, from the strange news that
Sylvester collapsed out the boss' office
after being suspended to
the missing cover story
. I'll always love bol eternally
for this post alone
, so he always has a job at
Pound for Pound
if he needs one. Holler.