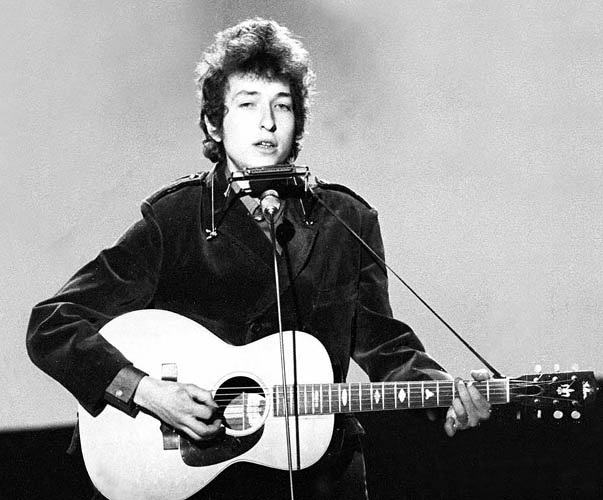 Bob Dylan,

Back Pages 1961-1996
Before we get a new focus going, I just wanted to post up this amazing CD's worth of music that I had hoped to upload back when we focused on the music of
Bob Dylan
. I really can't tell you much about this one, as I have searched the Internet for more info and come up empty. It's a mix of rarities and live versions of classics, covering at least the first 20 years of the man's career. It appears to be an unreleased album, perhaps a demo version of one of the boxed sets that has come out, such as
Bootleg Series Volumes 1-3
or
Biograph
.
If anyone knows what this is, or if there is any thought that I shouldn't be posting it up, please let me know. Otherwise, enjoy it, and make sure to listen to the songs that come in at the 50 minutes mark for two of the most beautiful songs that Dylan has ever sung imo,
"I'm Not There"
from
The Basement Tape Sessions
and
"Sign on the Window."
Be forewarned, this is a very long file, more than 90 MB. I think it's well worth some room on the hard drive, but didn't want anyone to be shocked.
-A huge welcome to all those coming to
Pound for Pound
via
Expecting Rain
and Steven T., a link site for
Bob Dylan fans
. I'm not sure that I am anywhere near qualified to talk about the man, nor that this site will be of much interest in general to
readers of that site
. But, I would love to hear from some of his fans, as I am sure that there are many opinions and thoughts on one of the most important artists of the 20th Century. Holler. For those who love Dylan, I can't think of
a better resource
for keeping up on the man, his music and his fans.
-Have you ever wished that you could hear Bob Dylan DJ? Thanks to
XM Radio
, you now can do just that, as
Dylan hosts a weekly radio show
with playlists he put together himself. There are commentaries and interviews as well, but I wouldn't tune in expecting a lot of chattiness or Fartman routines. [Via
Althouse
]
-
R.I.P. Mr. Furley
-On the recent Dylan-Dead post, there's now a comment that is in the running for my all-time favorites. How could it not be with phrases "huge dork" and "corndog"? Good work, Anonymous, you've really set the bar high for future assholes writing in.
-Not sure where to go next, as I'm not sure what music is going to pop up next. Tune in, as it can be a surprise to all of us.