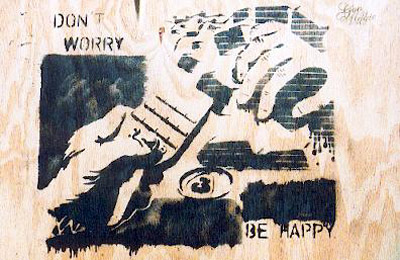 Amazingly, the news has been cheering me up, which is either a good sign for the state of the country, or a bad sign for the state of my life. For real, though, there have been some nice developments in politics, sports and music that have put me in a better mood- a little sun on a cloudy day.
-
The Democrats
won both Governor's races
last Tuesday, in New Jersey and Virginia. The Virginia one is especially exciting because it comes in a red state that voted for Bush by a nine % point margin in 2004. Bush actually made a campaign push for the Republican nominee on Monday, and it seemed to have a negative impact. The Republican nominee for NJ Governor, Doug Forrester, blamed Bush for his loss. Nice to see the GOP big tent collapsing under the weight of corruption and ineptitude. However, heed
kos' words
that this is just the beginning, that we need to keep the Republicans reeling.
-
Philly voters
overwhelmingly
approved a change to
the City Charter
that will enable ethics reform to go forward. It was 6 to 1 voting yes,
a clear and loud message
that
voters do care
about this issue. Again, this is just a beginning. We must keep the focus on this issue and the pressure on members of City Council.
-
The Philadelphia Flyers
look great. although
they lost in
overtime last night. I cannot begin to tell you how nice it is to have my boys back in action, winning, playing well and taking my mind off of things. Actually, this is just a shameless way to boost Canadian readership, but whatever.
-
lemon-red
! Bol is straight killin' it. Go
here
and check out
the new monthly mix
, this time by DJ Benzi. Go
here
and grab
the DJ Eleven mix
,
Houston Rocks It
, as
one of
The Rub
DJs takes you on a journey through the hip hop history of everyone's favorite city, H-Town. Go
here
for the man's first foray into mix making,
a nice start
and hopefully the first of many.
-Thanks to the good guys at
Those Two Words
for
the kind words
over at
their site
and in the comments section. It's real nice to have them back writing and updating on a consistent basis. Go check them out
here
, or use the link on the right as I have finally added them to the links list. It's
one of the best
hip hop news sources around.
More to come later in the week on the positive, as I try to stay on the Bobby McFerrin grind.